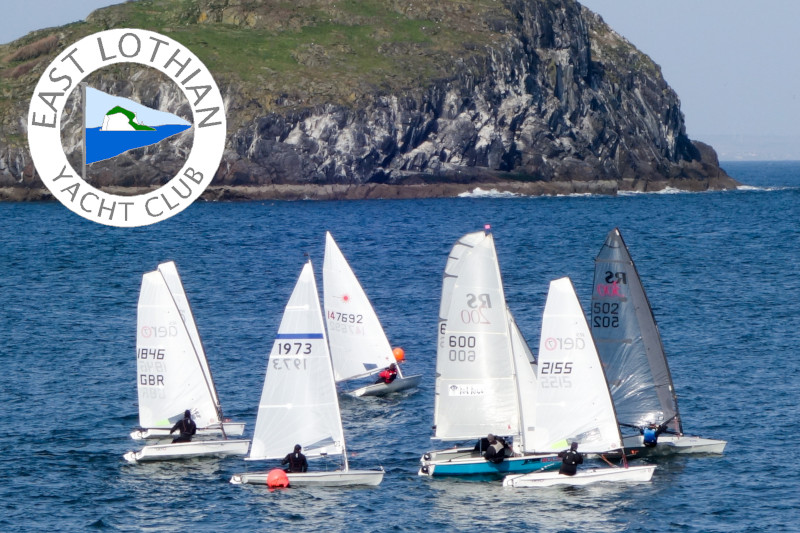 A warm Scottish welcome is waiting for you at East Lothian Yacht Club in 2021. Everyone in the club is looking forward to hosting the Merlin Rocket Nationals and celebrating 75 years as a class.
We are all working hard to get the Covid numbers down and support our incredible NHS and care workers. Let's ensure all our efforts earn a memorable summer of sailing.
North Berwick is a beautiful location for sailing; surfing waves in a North Easterly, thigh-burning chop in a Westerly, or tight tactical racing while waiting for the sea breeze to fill in. The backdrop of the Bass Rock and Craigleith, wildlife encounters with gannets, puffins, seals, dolphins make every sail memorable even when you've stuffed the leeward mark rounding.
On shore, the club is right in the heart of North Berwick town. Fresh seafood, ice cream, fish & chips, all within walking distance of the launch beach and a cold beer waiting for you at the club house.
East Lothian is a great destination for all the family with local walks, cycling, boat trips, kayaking, SUPs, golf, tennis all within easy reach.
The event organising team have been working hard to prepare, our Covid protocols are in place, our race management team are well drilled. All we need is you to join us for some epic racing.
See you in August,
Nick Roche
ELYC Commodore
EAST LOTHIAN
Sunny and picturesque area, east of Edinburgh.
Officially the sunniest area of Scotland, East Lothian combines the best of Scotland in miniature! The most dramatic part of the region is undoubtedly the 40 or so miles of coastline running from Musselburgh - all but joined onto Edinburgh - round to Dunbar. Here you'll find golden beaches such as those at Gullane, Yellowcraig and Dunbar, spectacular cliffs, plus the world's finest selection of links golf courses including Gullane and North Berwick.
Other popular attractions include studying the wildlife at North Berwick's award-winning Scottish Seabird Centre, viewing Scotland's Concorde up close at The National Museum of Flight at East Fortune, enjoying a flutter on the horse racing at Musselburgh and of course, enjoying a wee dram at Glenkinchie Distillery at the foot of the Lammermuir Hills.
All of the region is within easy day-trip range from the capital an overnight stay will let you explore it properly. East Lothian boasts many picturesque towns and villages that vary in look and feel from the traditional seaside towns of Dunbar and North Berwick to the county town of Haddington, providing an enjoyable stroll through quaint streets with unique shops and galleries, with a fine selection of places to stop for a bite to eat.
17/1/2021 10:37