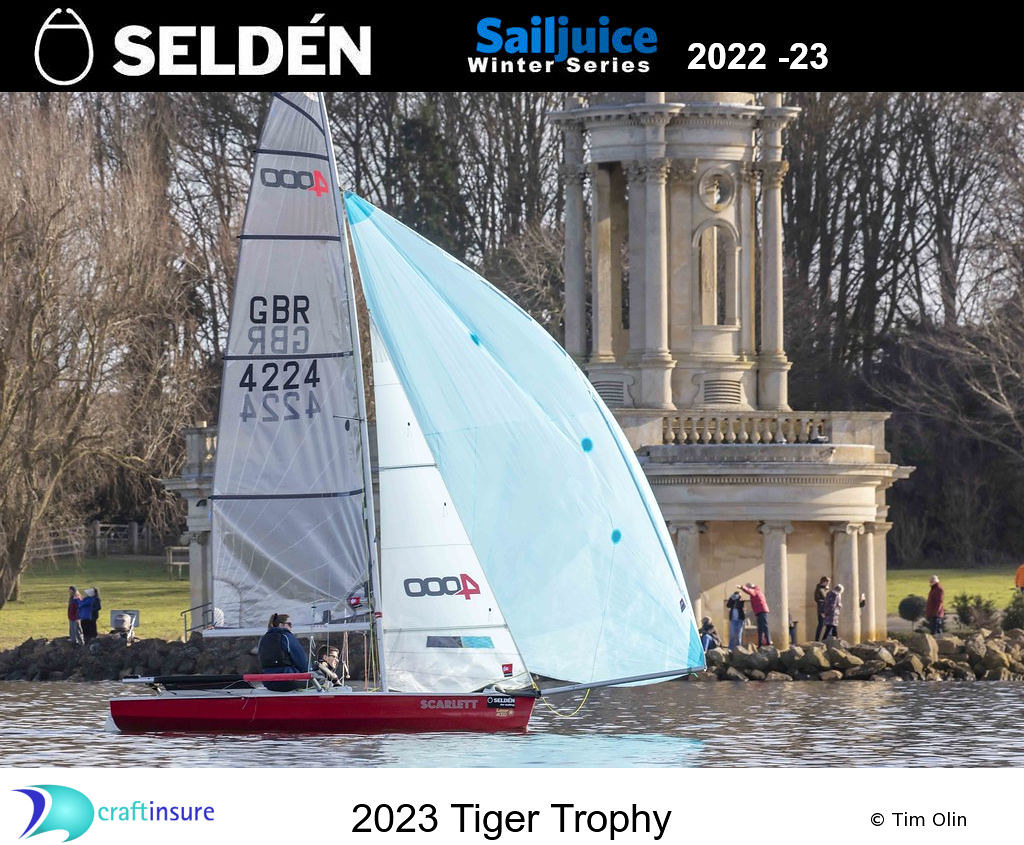 The trapeze boats had their moment to shine, but no one could match the consistent performance of Simon Hawkes's K1 keelboat which dominated the Tiger Trophy to become the latest winner in the Seldén SailJuice Winter Series...
Simon Hawkes swooped on the John Merricks Tiger Trophy after a consistent performance in his singlehanded K1 keelboat across two challenging days of racing at Rutland Water Sailing Club.
Event No.8 in this season's Seldén SailJuice Winter Series drew an entry of almost 100 dinghies and small keelboats which saw a range of different boat types faring well at different points over the weekend. There were 37 classes represented, ranging in speed from a Topper to foiling Moth, across all monohull configurations, including the towering rig of Jamie Stewart's Thames A Rater to Rutland SC's fleet of RS21 sports boats.
With a trapeze contingent that included nine Musto Skiffs and six 505s, over half the fleet were fast boats (sub-1000 PY on the Great Lakes numbers). There was also a very good showing of Sailability entries with four Challengers and 2.4m keelboats, and a competitor age from 10 years to 70-plus.
Saturday brought mild temperatures with a good south-westerly breeze of around 9 to 11 knots. Musto Skiff National Champion Sam Pascoe from Castle Cove SC put the hammer down to win the first two races as the trapeze fleet came to the fore. However the breeze started to drop for the third race, allowing the slower boats to have their say in the diminishing wind. Simon Hawkes (Wimbleball Sailing Club) steered his K1 keelboat to race 3 victory ahead of the RS200 of Ben Whaley and Lorna Glen (Parkstone YC), with Alastair Brown's (Great Moor SC) Laser/ ILCA taking third.
Pascoe finished 11th in the last race of the Saturday session, but with the discard his two bullets put the Musto Skiff 1 point ahead of Hawkes's K1 on the overnight leaderboard. Hawkes had been the most consistent across the day with scores of 2,2,1. Arran Holman & Alex Hughes (Hollowell SC) held third place in their 505.
The bar at Rutland SC was packed after Saturday racing, with sailors enjoying the Six Nations Rugby on the big screen while taking advantage of a good selection of draught beers. More than 60 people sat down for the Tiger Dinner as sailors from different classes shared war stories from the day's close competition.
SLOW BOAT PURSUIT
Sunday's forecast didn't look promising with a new weather system crossing the country and a shift to lighter, more northerly breezes. Fortunately, on arrival at the club, sailors were greeted with glorious sunshine and a chilly northerly breeze of around 10 knots.
Sunday's racing in the Tiger is all about the non-discardable Pursuit Race. The good breeze got the race going nicely at the outset, with the sole Topper of 14-year-old Nathan Clarke (Waveney & Oulton Broad Yacht Club) holding the lead for the first hour, then to be overtaken by Jazz Turner (2.4m Newhaven & Seaford SC). Approaching the end of the first lap and after 55 minutes of race time, Mathew Frary (Solo - Norfolk Broads Yacht Club) overhauled the 2.4m keelboat to take the lead. In hot pursuit was the slightly faster Graduate of Isaac Marsh and Alex Gibbons (Northampton SC).
With the falling breeze the Solo and Graduate opened up a growing lead from the pursuing pack, and seemed glued to each other for the final hour of the 120-minute Tiger Pursuit Race. With the Graduate taking the lead with 25 minutes to the finish time and appearing to pull away, Frary continued to push the doublehander hard. In the end the Graduate did enough to win the Pursuit Race by just a boat length from the Solo.
The dying breeze had not been kind to the later starters and overnight leader Sam Pascoe could only manage a 63rd in the non-discardable race. This meant that, with a 9th in the Pursuit Race, Hawkes won overall, followed by Alastair Brown's Laser and Ben Whaley and Lorna Glen in the RS200.
The top 10 overall showed a good distribution with five from the slow fleet and five from the fast fleet, and eight classes in the top 10.
Top Speeds recorded by SailRacer GPS trackers
Fastest
James Sainsbury (Int Moth - Rutland SC) - sustained 9.3 kts
Corrected
Sam Pascoe (Musto Skiff - Castle Cove SC)
Charity support continues
Since the closure of the successful 25-year run of the John Merricks Sailing Trust charity, Rutland Sailing Club decided to continue the charity tradition of the Tiger by contributing the net proceeds of the event to a charity of the club's choice. The ones under consideration are the John Merricks Lake Trust in Leicester and Greig City Academy led by Jon Holt. Thanks to Everards Brewery who have been long-time supporters of the event and continue to support the John Merricks Tiger Trophy.
Enter the Oxford Blue
There's only one event remaining in this year's Series, and it's the Oxford Blue at Farmoor Reservoir on 18 February. It's a good chance to get some more pre-season competition against some of the country's best sailors.
THE EVENTS
The following events are in the Seldén SailJuice Winter Series 2022/23:
Fernhurst Books Draycote Dash, Draycote Water Sailing Club
20 & 21 November 2022
Datchet Flyer, Datchet Water Sailing Club
3 & 4 December 2022
Yorkshire Dales Brass Monkey, Yorkshire Dales Sailing Club
27 December 2022
Burghfield Breezer, Burghfield Sailing Club
27 December 2022
Gill Grafham Grand Prix, Grafham Water Sailing Club
2 January 2023
GJW Direct Bloody Mary, Queen Mary Sailing Club
7 January 2023
King George Gallop, King George Sailing Club
21 January 2023
John Merricks Tiger Trophy, Rutland Sailing Club
4 & 5 February 2023
Oxford Blue, Oxford Sailing Club
18 February 2023
Prizegiving at RYA Dinghy Show, Farnborough
25 February 2023
You can find out more about the Series here: www.SailJuiceSeries.com
Photo Credits: Tim Olin
Notes to editors:
Previous winners of the Seldén Sailjuice Winter Series
2021/22 Roger Gilbert & Ben McGrane (505)
2020/21 Simon Horsfield & Katie Burridge/ Natalie Johnson (2000)
2019/20 Simon Horsfield & Katie Burridge (2000)
2018/19 Simon Horsfield & Katie Burridge (2000)
2017/18 Alistair Goodwin (Laser)
2016/17 Matt Mee & Emma Norris (RS200)
2015/16 Ian Dobson & Andy Tunnicliffe (GP14)
2014/15 Nick Craig & various crews (Merlin Rocket)
2013/14 Michael Sims (Solo)
2012/13 Tom Gillard & Simon Potts (Fireball)
2011/12 Peter Gray & Rachael Rhodes (Scorpion)
2010/11 Andy Peake (Musto Skiff)
2009/10 Olly Turner & Richard Whitworth (Merlin Rocket)
SailJuice.com is the 'how to sail and race faster' website, with hundreds of articles and exclusive interviews with National, World and Olympic Champions. Professional sailing journalist and editor of SailJuice.com, Andy Rice, came up with the concept of the SailJuice Winter Series (originally known as the SailJuice Global Warm-Up) as a way of increasing participation levels in dinghy racing during the off-season in the UK.
SailRacer manages event websites and processes online entry for major National, International, Youth and training events, providing online scoring, analysis and advanced sports presentation including GPS tracking and live video.
Seldén Mast Ltd is the world leader in dinghy spars. More races are won by Seldén Spars than any other brand. Dinghy spars are made using Seldén unique XPS aluminium with CNC cut tapers, automated welding and heat treating resulting in the highest quality and most consistent dinghy spars available. Seldén also produces about 400 carbon masts per year for boats including high performance dinghies and race yachts using state of the art Mandrel Filament Moulding Technology.
Craftinsure aims to make boat insurance as effortless as possible with an easy to navigate website and app which allows you to make changes to your cover quickly and with ease. With 'New for Old' cover at competitive prices, Craftinsure insures over 25,000 boats with excellent customer reviews which you can read on Trustpilot.