SELDEN SAILJUICE SPRING SERIES TO ENCOURAGE COVID-COMPLIANT COMPETITION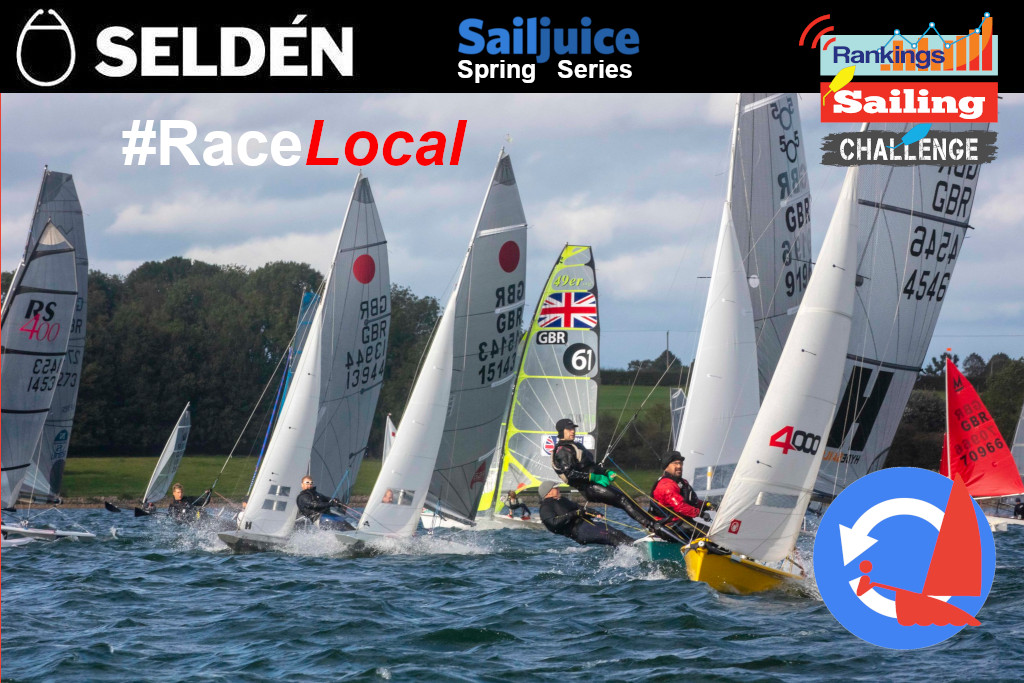 Sailors around the UK are being invited to enter a brand new event called the Selden Sailjuice Spring Series (SSSS) this April and May. #RaceLocal
With so many events being cancelled due to the ongoing effects of the Covid pandemic, the aim of the SSSS is to encourage sailors to go racing without breaking the rules or the spirit of Covid restrictions, as series organiser Simon Lovesey explains: "From 29 March the UK government is encouraging outdoor sporting activity in England, but with an emphasis on minimising travel and overnight stays.
"So we're looking to clubs to encourage their members to go racing on their home waters, not to travel, but to submit their race scores for a combined result that we will produce from all the different race data across the country. Sailing already ticks a lot of the boxes of being socially distanced and taking place outdoors, and by minimising travelling around the country we hope that clubs will embrace the Spring Series as one of the most viable options currently available."
The first weekend of racing will be the Easter Weekend of 2 to 5 April, with competition due to run through to the end of May.
HOW IT WORKS
So, how to combine the scores from different sailing clubs around the country, all with different types of boat competing in different types of wind conditions, both on the sea and on flat water venues inland? Simon explains: "Each boat that wants to take part in the Spring Series will be sent a SailRacer GPS tracker in the post. It's waterproof, it's easy to attach to the boat, the instructions are easy to follow. You go racing, the tracker records your performance through the water and around your local race course and the data is recorded centrally on the SailRacer database. We then bring together all the individual results which are then fed into the overall scoresheet and we have a results sheet with overall scores across the country, which takes into account different class handicaps, course configuration and wind speed data."
BUT HOW ACCURATE WILL THE RESULTS BE?
SailRacer has already recorded data from more than 10,000 races over the past few years, including a number of years from the Selden Sailjuice Winter Series. "Thanks to the accurate starting point of the Great Lakes numbers, a regularly updated version of the RYA's PY numbers, we already had a great place to work from which most handicap sailors are already familiar with and trust. We have run remote racing for a few classes in the past couple of years, most notably the Solos and the K1 keelboat fleets.
WHAT OTHERS SAY ABOUT REMOTE RACING
"Many thanks to SailRacer for enabling us to put on an amazingly innovative and inclusive event - many sailors who would not normally travel to events were able to compete as well. The software coped well with the variety of conditions and locations. We shall certainly be doing this again in the future." - David Pritchett, K1 Class Chair
Solo Class President Doug Latta said: "We are seeing a growing interest in Solo sailing and the Solo Club Racing Championships has been a great way of keeping people engaged with the class association when it is challenging to run more traditional class events."
SO HOW DO I GET INVOLVED?
If you're keen to get involved as a participant in the Spring Series, sign up here selden.sailracer.org
Entry to the Series is just £20 which includes of a SailRacer GPS tracker for the duration of the Series.
If you're keen for your Sailing Club to take part for the benefit of ALL your members, contact Simon Lovesey:
All we need from your sailing club is the detail of the course to be raced, which can be pinged from the SailRacer App.
RestartSailing (RYA Affiliated) will be the organising authority and provide remote support for any sailors and sailing clubs that need help getting up and running.
PRIZE CATEGORIES
Top 10 overall
Craftinsure Family Award
SpeedSIx top fastest (standard and adjusted)
Trident Top club - based on best three results for each club
RestartSailing Top Class - based on best three results for each class
GBSC Youth
GBSC Junior
GBSC 19-30
GBSC 31-60
GBSC Masters
GBSC Top Lady
GBSC Fast Asymmetric
GBSC Slow Asymmetric
GBSC Fast Symmetric
GBSC Slow Symmetric
Entry fee £20, including cost of GPS tracker
selden.sailracer.org
Free entry for GBSC National Rankings subscribers.
19/3/2021 11:05
Photo © Tim Olin
#RaceLocal