A WINTER SERIES FOR THE SUMMER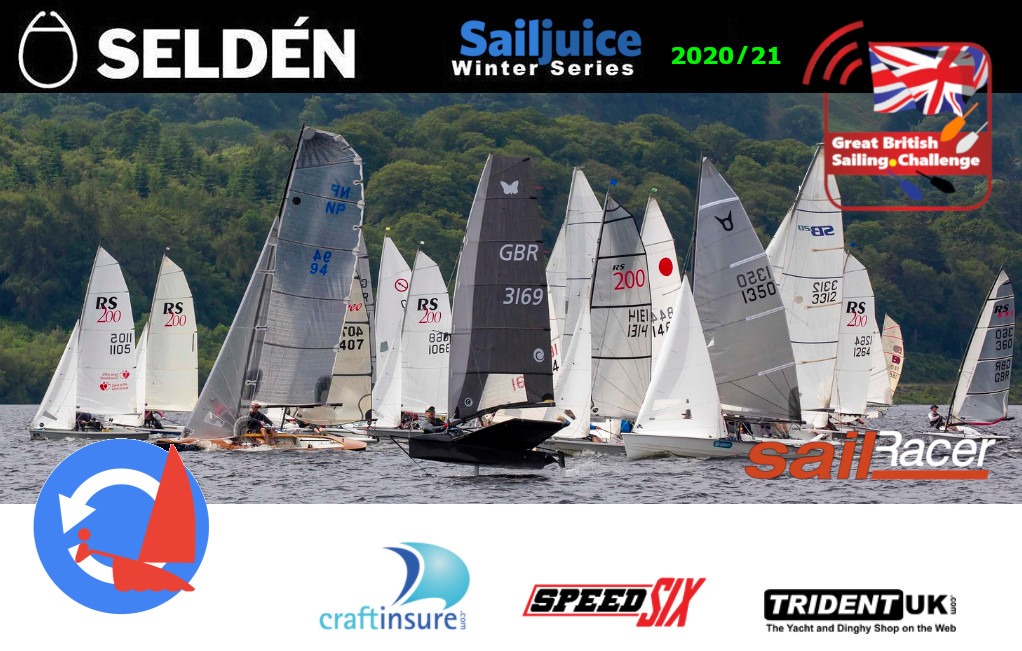 Now is the winter of our discontent... which is why the Seldén SailJuice Winter Series is being extended into this spring and summer. With Covid forcing the cancellation or postponement of all but one of the scheduled events, the results of the successfully run Datchet Flyer last December do not add up to a series worthy of the name.
So series co-organisers Andy Rice and Simon Lovesey have agreed with title sponsor Seldén Masts to continue to the series through to a concluding event at Rutland Water, the rescheduled John Merricks Tiger Trophy on the last weekend of August.
"This is probably the first time a winter series will be taking place during the warm months of the year," said Andy. "But the focus for me and Simon has always been to maximise participation in dinghy racing by whatever means we can. With so many summer regattas and national championships being cancelled already, and the ever-present problem of too many of the smaller classes trying to organise single-class open meetings where they can't even guarantee a turnout of 20 boats, we're looking to offer a more sustainable option with the multi-class handicap events throughout the spring and summer.
Simon has been spearheading the continuation of sailing wherever possible within Covid guidelines, via his non-for-profit organisation RestartSailing which he established during National Lockdown #1 in spring 2020. Simon said: "We are working with sailing clubs that are keen to make things happen wherever it is possible to do so in a safe, Covid-compliant manner. If any club or class wants us to help them put on a sustainable, profitable, fun and safe event, we're ready to talk with them."
So if you want to find out more, either as a competing sailor, class or sailing club, please contact Simon on: simon.lovesey@sailracer.co.uk
THE EVENTS
The following events are in the Seldén SailJuice Winter Series (Summer Edition!):
Alton Water, Suffolk, 27-28 March 2021
Paignton Open for Single Handers (P.O.S.H.), Paington SC, 8-9 May 2021
Grafham Belle, Grafham Water SC, 29-30 May 2021
Wilsonian River Challenge, Wilsonian SC, 26-27 June 2021
Bala Long Distance, Bala SC, 19-20 June 2021
Tiger Trophy, Rutland Water SC, 28-29 August 2021
You can find out more about the Series here: www.SailJuiceSeries.com
Meanwhile Simon and Andy have been busy hosting some informative and entertaining Facebook Live sessions looking at the history of dinghy sailing from a number of angles.
https://www.facebook.com/SeldenSailJuiceWinterSeries
To give you a flavour of these Facebook Live specials, here's a list of the webinars hosted so far this winter:
THE FACEBOOK LIVE EVENTS HOSTED SO FAR...
Facebook Live - History of the Tiger Trophy
https://fb.watch/3CaKv8q3cz/
Facebook Live - Innovating for Better Racing
https://fb.watch/3Cd8SPHLbd/
Facebook Live - History of the Bloody Mary
https://fb.watch/3aWorFCHRv/
Facebook Live - Great Lakes Handicap System
https://fb.watch/2Ua5cxXeEn/
Facebook Live - Winter Winners, Past & Present
https://fb.watch/2Uak0QX6-p/
Facebook Live - History of the Draycote Dash
https://fb.watch/2UaefNdGJE/
Previous winners of the Seldén Sailjuice Winter Series
2019/20 Simon Horsfield & Katie Burridge (2000)
2018/19 Simon Horsfield & Katie Burridge (2000)
2017/18 Alistair Goodwin (Laser)
2016/17 Matt Mee & Emma Norris (RS200)
2015/16 Ian Dobson & Andy Tunnicliffe (GP14)
2014/15 Nick Craig & various crews (Merlin Rocket)
2013/14 Michael Sims (Solo)
2012/13 Tom Gillard & Simon Potts (Fireball)
2011/12 Peter Gray & Rachael Rhodes (Scorpion)
2010/11 Andy Peake (Musto Skiff)
2009/10 Olly Turner & Richard Whitworth (Merlin Rocket)
SailJuice.com is the 'how to sail and race faster' website, with hundreds of articles and exclusive interviews with National, World and Olympic Champions. Professional sailing journalist and editor of SailJuice.com, Andy Rice, came up with the concept of the SailJuice Winter Series (originally known as the SailJuice Global Warm-Up) as a way of increasing participation levels in dinghy racing during the off-season in the UK.
SailRacer manages event websites and processes online entry for major National, International, Youth and training events, providing online scoring, analysis and advanced sports presentation including GPS tracking and live video.
Seldén Mast Ltd is the world leader in dinghy spars. More races are won by Seldén Spars than any other brand. Dinghy spars are made using Seldén unique XPS aluminium with CNC cut tapers, automated welding and heat treating resulting in the highest quality and most consistent dinghy spars available. Seldén also produces about 400 carbon masts per year for boats including high performance dinghies and race yachts using state of the art Mandrel Filament Moulding Technology.
12/2/2021 13:09
Photo © Tim Olin
*Draft Schedule
Draycote Dash
21-22 November 2020
6-7 March 2021
Datchet Flyer
5-6 December 2020
Burghfield Brass Monkey
27 December 2020
20 February 2021
Round 4 - Remote
3 January 2021
Round 5 - Remote
9 January 2021
King George Gallop
23 January 2021
Postponed
John Merricks Tiger Trophy
6-7 February 2021
(28/29 Aug)
Oxford Blue
13 February 2021
Postponed
Alton Water
27/28 March 2021
*Details subject to change