Pre-registration open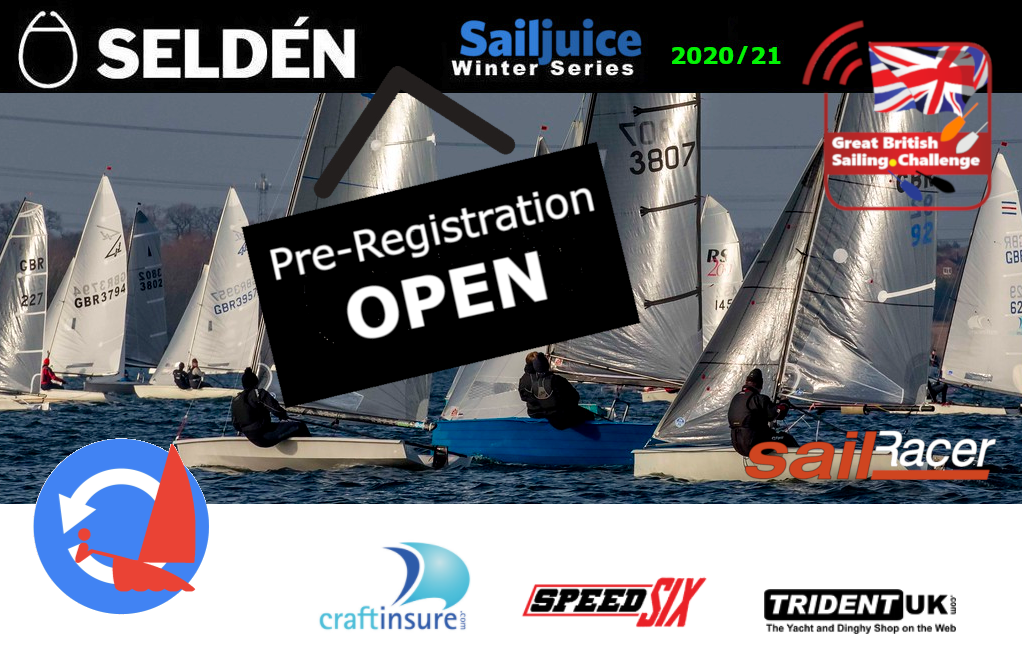 In anticipation of events getting booked out to capacity, there's a new pre-entry process to try to give as many sailors as possible a chance of taking part in Great Britain's most popular winter sailing series....
Making the Seldén SailJuice Winter Series work in such unpredictable times means there is a new pre-entry process in place. The pre-entry opened on 1 October, even though the first even is some weeks away - the Fernhurst Books Draycote Dash on the weekend of 20 & 21 November. Already there have been over 100 pre-registrations with quite a few signing up for all eight events.
"In recent years we have had an increasing number of events booking out to capacity a few days or even weeks in advance," explained co-organiser Andy Rice of Sailjuice. "Judging by the big appetite for sailing during the summer, it looks like we need to be ready for the events in the winter to be busy." He is working with fellow organiser Simon Lovesey of Sailracer on a scoring format to cover different outcomes, whether all eight events go ahead, or if a few are crossed off the schedule due to Covid 19.
If you're interested in taking part, you can place down a £5 deposit against each of the events that you want to compete in. That £5 goes towards the entry fee if the event goes ahead. If the event is cancelled or there are other circumstances arise such as the sailor gets Covid-19, the sailor receives the £5 back.
The other reason for a sailor receiving back their £5 pre-registration payment is if the event is oversubscribed. The organisers are keen to maintain the diversity of competitors and types of boat that has become one of the hallmarks of the Seldén SailJuice Winter Series since it began more than a decade ago. "In normal years we see competitors ranging in age from 8 to more than 80 years old," said Simon. "And we're looking at nearly 100 different types of boat taking part. As much as possible we want to keep that diversity if we find events are booking to capacity."
You can find out more by watching the Facebook Live launch of the Series that took place in late September. It's already clocked up in excess of 13,000 views with lots of useful feedback from sailors:
Among the guests who joined Simon and Andy on the call was Sam Vaughan from title sponsor Seldén, the mast manufacturer back for a third year with the Series "This year is flying by, and so many of us have done so little sailing this year, so we're really keen to be involved in the Series again," said Sam. "We see it as a unique opportunity to talk to our customers when generally sailing is quite quiet. This year I think sailors will enjoy the Series even more because racing has been in such short supply. From what we've seen at Seldén, the appetite for sailing is bigger than ever.
Jeremy Atkins joined the call in his capacity as organiser of the first event hosted by the club of which he is commodore, Draycote Water Sailing Club. Jeremy and his team have already hosted a number of well-attended open meetings in recent months, so the Fernhurst Books Draycote Dash will be using well-tested systems for coping with Covid-19 regulations. "We have a massive shoreline, so socially distanced launching isn't too bad. But the past few months, making it work has been quite onerous. We've put in place a number of systems such as a drive-thru registration process, where you don't actually leave your car. For prizegivings there is a table, there's a message sent to the competitor, you collect your prize, get your photo taken and then you leave." Part of the success of the Series has been in sharing these examples of best practice between the participating clubs, and this year more than ever, that spirit of cooperating and knowledge sharing will be very important.
Peter Barton has been competing in the Series ever since the first edition, back when it was known as the Sailjuice Global Warm-up. These days Peter also manages and promotes the RS Aero class. "We're very keen on supporting the Series. In past years the RS Aero class has focused on a couple of key events, but this winter I think we'll support the whole Series. I support the idea of the pre-registration for events. It's a good idea generally, because it's no good sitting on the fence and waiting for a good forecast. Get your entries in and get on with it. A lot of good sailing days are lost to a bad forecast."
Winners of the last two season, Simon Horsfield and Katie Burridge, are champing at the bit to get racing in their 2000 against a large fleet again. "For us, it's not so much about the handicap racing, we want to go sailing, don't mind if it's 5 knots or 40 knots," said Simon. "The pre-booking is a sensible idea," said Katie. "It's unprecedented times, so I think that's a way of making it as fair as it can be."
More about the Pre-Registration Process
We are committed to running the 2020/21 Seldén SailJuice Winter Series, but with the uncertainties over the Covid-19 situation anticipate there are likely to be changes to individual event criteria closer to their actual race dates, for example, lower restricted entry numbers than usual. Following demand patterns seen for recent major events run over the summer, we also anticipate that the Seldén SailJuice Winter Series events will sell out quickly.
Entry for all events will only be online to follow Covid-19 guidelines and will open much later than in previous years to allow host clubs to take account of the latest situation. Therefore to allow for the fairest allocation of entry places we will be operating a pre-registration phase to allow sailors to show their commitment against individual events. For the pre-registration phase sailors will select the events they intend to compete in and pay a £5 advance for each event. We expect entry fees at a similar level to last winter:
Advance deducted against the actual entry fee
Spaces only allocated to those who have paid an advance against a number of criteria depending on the circumstances of each event
Order when payment for advance received (oldest first)
Class allocation - to ensure spread of classes represented
Demographic allocation (age and gender)
Number of events registered for
Number of events attended in previous Seldén SailJuice Winter Series
Host club members allocation
Distance to travel
If a sailor is allocated a space against an individual event they will be sent a payment link for the balance of the entry fee which has to be paid within 10 days unless otherwise stated in the payment request
If event cancelled advance refunded 100%
If entry not allocated advance refunded 100%
No refunds if the event goes ahead and sailor doesn't attend after being allocated a space.
Pre-registration for the events is now open at www.sailjuiceseries.com
THE EVENTS
The following events are in the Seldén SailJuice Winter Series 2020/21:
Fernhurst Books Draycote Dash, Draycote Water Sailing Club
Datchet Flyer, Datchet Water Sailing Club
Burghfield Brass Monkey, Burghfield Sailing Club
Grafham Grand Prix, Grafham Water Sailing Club
Bloody Mary, Queen Mary Sailing Club
King George Gallop, King George Sailing Club
John Merricks Tiger Trophy, Rutland Sailing Club
Oxford Blue, Oxford Sailing Club
You can find out more about the Series here: www.SailJuiceSeries.com
Previous winners of the Seldén Sailjuice Winter Series
2019/20
Simon Horsfield & Katie Burridge (2000)
2018/19
Simon Horsfield & Katie Burridge (2000)
2017/18
Alistair Goodwin (Laser)
2016/17
Matt Mee & Emma Norris (RS200)
2015/16
Ian Dobson & Andy Tunnicliffe (GP14)
2014/15
Nick Craig & various crews (Merlin Rocket)
2013/14
Michael Sims (Solo)
2012/13
Tom Gillard & Simon Potts (Fireball)
2011/12
Peter Gray & Rachael Rhodes (Scorpion)
2010/11
Andy Peake (Musto Skiff)
2009/10
Olly Turner & Richard Whitworth (Merlin Rocket)
SailJuice.com is the 'how to sail and race faster' website, with hundreds of articles and exclusive interviews with National, World and Olympic Champions. Professional sailing journalist and editor of SailJuice.com, Andy Rice, came up with the concept of the SailJuice Winter Series (originally known as the SailJuice Global Warm-Up) as a way of increasing participation levels in dinghy racing during the off-season in the UK.
SailRacer manages event websites and processes online entry for major National, International, Youth and training events, providing online scoring, analysis and advanced sports presentation including GPS tracking and live video.
Seldén Mast Ltd is the world leader in dinghy spars. More races are won by Seldén Spars than any other brand. Dinghy spars are made using Seldén unique XPS aluminium with CNC cut tapers, automated welding and heat treating resulting in the highest quality and most consistent dinghy spars available. Seldén also produces about 400 carbon masts per year for boats including high performance dinghies and race yachts using state of the art Mandrel Filament Moulding Technology.
2/10/2020 18:19
Photo © Tim Olin