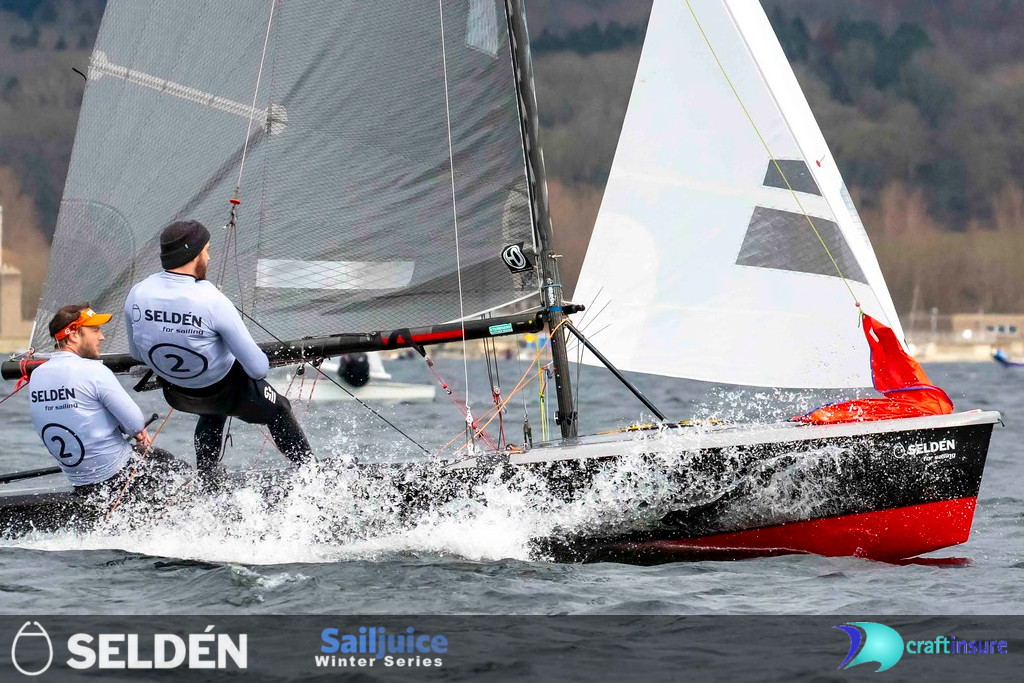 It's 11 years since Peter Gray won the overall title in a Scorpion. This year the Staunton Harold sailor wins the Seldén SailJuice Winter Series sailing an Osprey with Geoff Edwards...
Peter Gray & Geoff Edwards (Staunton Harold SC) have become overall winners of this season's Seldén SailJuice Winter Series, but only by the skin of their teeth. It was a close-run thing against Ben Flower (Paington SC) who raced his Laser/ ILCA 7 to a healthy lead in the early stages of the nine-event series but couldn't defend his lead in the later events due to Olympic campaigning duties for Canada.
Gray & Edwards needed a top six at the final event, last weekend's Oxford Blue, if they were to beat Flower overall. A fifth against a fleet of 85 at Farmoor Reservoir was just good enough to take out overall victory, for which the Osprey team will receive the trophy this weekend at the RYA Dinghy & Watersports Show at Farnborough. It was the closest ever finish in the 14-year history of the series.
Joe Scurrah (Carsington SC) sailed his RS Aero 7 to third overall after a very consistent season, just beating Ollie Groves & Martin Penty (Beaver SC) in their RS400 by less than a point.
Gray was surprised to learn that it was 11 years since he'd last won the overall series, on that occasion sailing a Scorpion with Rachael Rhodes, now his wife, Rachael Gray. "It's amazing to think it's so long ago," laughed Peter. "It's good to win it again, this time with Geoff. We'd sailed together in a few other classes and we wanted to identify the right boat for us both.
"We thought about the 505 or the Fireball, but we gave the Osprey a go last year at the Nationals when the class association was kind enough to lend the class boat to us. We didn't get much racing in that week though, because there wasn't much wind, so they were kind enough to let us borrow the boat for the Seldén SailJuice Winter Series. Now we've bought an older Osprey for ourselves, and Rachael and I both have new Scorpions coming too."
Like previous winners, Gray says the Seldén SailJuice Winter Series is the ideal way to keep your racing skills sharp through the colder months. "It's good, tight racing that keeps you on your toes and it stops you going rusty," he said. "The way the events and the series are run, it's very slick, and the format is quite nice. There's a bit of a cluster of events around Christmas but you can put a series together by doing one event a month across the winter season, and that's pretty much what Geoff and I did."
Gray says it was a nice feeling returning to Staunton Harold to drop off the boat. "I got a big cheers from everyone when I arrived, which felt great. It's been a good winter."
The Osprey was the only trapeze boat to make the top 10 overall this season, which being predominantly light airs has tended to favour the slower, hiking classes. Roger Blake and Jonathan Osgood (Great Moor SC) sailed their Osprey to 9th overall, but Roger was beaten by his son Jamie who hiked his Laser to 5th overall.
The prizegiving for the Seldén SailJuice Winter Series always attracts one of the biggest crowds at the RYA Dinghy & Watersports Show which takes place in Farnborough this weekend. The prizegiving starts at 1015am on the Main Stage, on the Saturday morning of 25 February, soon after doors open for the weekend.
THE EVENTS
The following events were in the Seldén SailJuice Winter Series 2022/23:
Fernhurst Books Draycote Dash, Draycote Water Sailing Club
Datchet Flyer, Datchet Water Sailing Club
Yorkshire Dales Brass Monkey, Yorkshire Dales Sailing Club
Burghfield Breezer, Burghfield Sailing Club
Gill Grafham Grand Prix, Grafham Water Sailing Club
GJW Direct Bloody Mary, Queen Mary Sailing Club
King George Gallop, King George Sailing Club
John Merricks Tiger Trophy, Rutland Sailing Club
Oxford Blue, Oxford Sailing Club
Prizegiving at RYA Dinghy Show, Farnborough
Previous winners of the Seldén Sailjuice Winter Series
2021/22
Roger Gilbert & Ben McGrane (505)
2020/21
Simon Horsfield & Katie Burridge/ Natalie Johnson (2000)
2019/20
Simon Horsfield & Katie Burridge (2000)
2018/19
Simon Horsfield & Katie Burridge (2000)
2017/18
Alistair Goodwin (Laser)
2016/17
Matt Mee & Emma Norris (RS200)
2015/16
Ian Dobson & Andy Tunnicliffe (GP14)
2014/15
Nick Craig & various crews (Merlin Rocket)
2013/14
Michael Sims (Solo)
2012/13
Tom Gillard & Simon Potts (Fireball)
2011/12
Peter Gray & Rachael Rhodes (Scorpion)
2010/11
Andy Peake (Musto Skiff)
2009/10
Olly Turner & Richard Whitworth (Merlin Rocket)
SailJuice.com is the 'how to sail and race faster' website, with hundreds of articles and exclusive interviews with National, World and Olympic Champions. Professional sailing journalist and editor of SailJuice.com, Andy Rice, came up with the concept of the SailJuice Winter Series (originally known as the SailJuice Global Warm-Up) as a way of increasing participation levels in dinghy racing during the off-season in the UK.
SailRacer manages event websites and processes online entry for major National, International, Youth and training events, providing online scoring, analysis and advanced sports presentation including GPS tracking and live video.
Seldén Mast Ltd is the world leader in dinghy spars. More races are won by Seldén Spars than any other brand. Dinghy spars are made using Seldén unique XPS aluminium with CNC cut tapers, automated welding and heat treating resulting in the highest quality and most consistent dinghy spars available. Seldén also produces about 400 carbon masts per year for boats including high performance dinghies and race yachts using state of the art Mandrel Filament Moulding Technology.
Craftinsure
aims to make boat insurance as effortless as possible with an easy to navigate website and app which allows you to make changes to your cover quickly and with ease. With 'New for Old' cover at competitive prices, Craftinsure insures over 25,000 boats with excellent customer reviews which you can read on Trustpilot.
21/2/2023 09:59