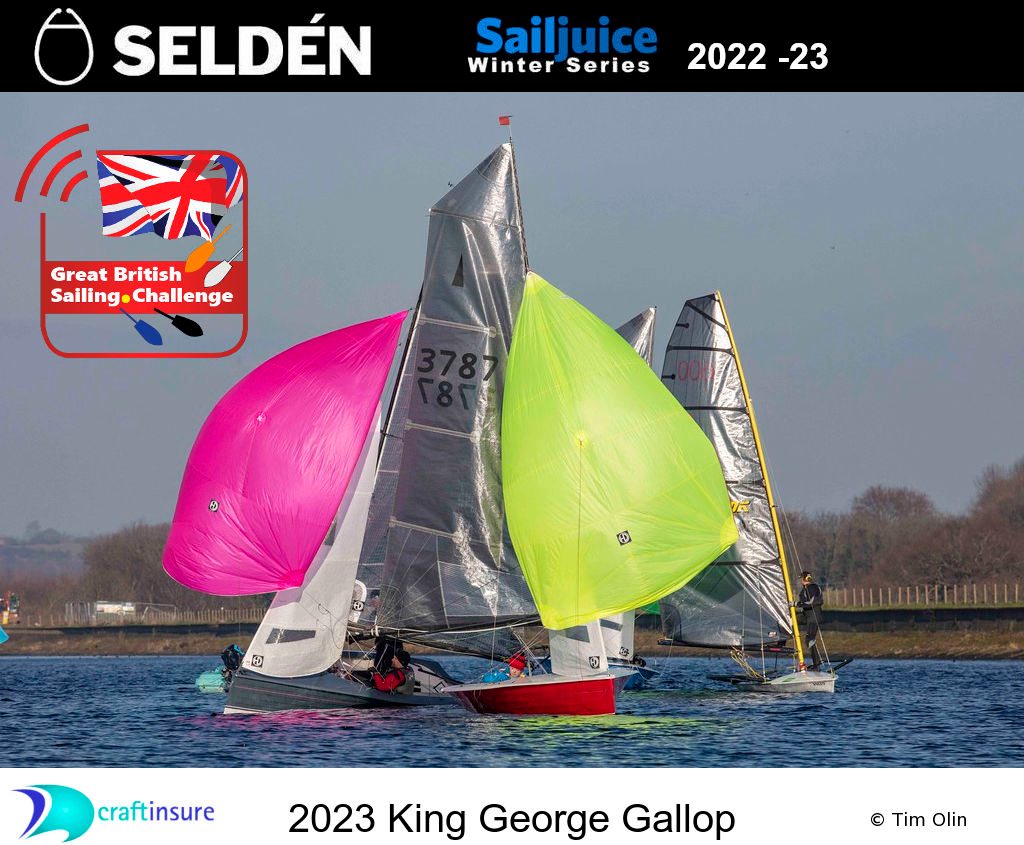 Seldén SailJuice Winter Series Event #7 - The role of the Principal Race Officer is mostly a thankless task. But there's a strange phenomenon taking place this season in the Seldén SailJuice Winter Series...
What is it about being the Principal Race Officer (PRO) of an event in the Seldén SailJuice Winter Series? Former PRO of the King George Gallop, Vince Horey, decided to dust down his Enterprise and take it for a spin in the handicap competition last weekend on light and sunny day on King George Reservoir in North London.
With Richard Abendstern crouching in the front, Vince roll-tacked the Enterprise to victory. Meanwhile, a previous winner of the Gallop, Tony Cooper, was this year's PRO. It follows on from another Twilight Zone coincidence at the start of the winter series when Richard Pye won the Fernhurst Books Draycote Dash aboard his RS Aero 7, having been PRO the year before.
Who will we see lining up to be event race officers next season? With this kind of insider success rate, maybe the PRO's job is the best ticket in town! Then again, Vince is a former National and European Champion in the Fireball, so he's got form.
Race 1 and 2 were held in the most stable wind with a NE breeze, and held over a trapezoidal course. In race 3, the wind shifted more east and reduced, which meant a short delay for the course to be shifted shifted and changed to a triangle.
The Horey/Abendstern duo made the most of the 5-7 knot northerly wind conditions and blazing winter sunshine to win with scores of 1,2,1 ahead of fellow Enterprise competitors Ann Jackson & Nick Scutt who got 4,1,11. In third overall was David Reekie's Solo with a consistent 3,3,2 from the day.

Results

Despite the poor forecast the day itself turned out really nicely. The Gallop had been another well-run event by the North London club, KGSC, which has been nominated as an RYA Club of the Year 2023 Finallist.





Results from the King George Gallop

https://enter.sailracer.org/eventsites/content.asp?id=48433&eventid=224528&templ=



Top Fastest as recorded by the SailRacer GPS trackers was:

Jonathan Carter - Vortex - 5.33 kts



Fastest speed adjusted to handicap was:

Ann Jackson/ Nick Scutt - Enterprise - 4.52 kts

SailRacer GPS Tracking

1st Youth Finlay Cochrane - Laser 4.7 (ILCA 4) - Yorkshire Dales SC

Overall after 7 Events in the Seldén SailJuice Winter Series

No change to the top five, but quite big movements in other parts of the leaderboard. Jonathan Carter (Vortex) and Finlay Cochrane (Laser 4.7) both jump up into top 10...

https://enter.sailracer.org/eventsites/content.asp?eventid=224528&id=48408

ENTER THE TIGER!

The Fireball duo of Dave Hall & Paul Constable have never yet missed a John Merricks Tiger Trophy at Rutland Sailing Club, and the Fireball duo are among the early entrants to have booked their spot at the eighth event in the Seldén SailJuice Winter Series.

Taking place on 4 & 5 February, principal race officer David Wilkins has a great reputation for running exciting and fair racing on England's largest reservoir.

Up to four club-based RS21 keelboats are expected to take part in the competition, which also coincides with the first weekend of Six Nations rugby fixtures. "We'll be off the water well in time for the England v Scotland match on Saturday afternoon," says David.

As ever there's a sit-down dinner on the Saturday night and a chance for old friends from across different dinghy classes to catch up before the summer season gets going again.

To sign up to the Tiger Trophy and the final event of the season, the Oxford Blue, go here:

www.sailjuiceseries.com
THE EVENTS
The following events are in the Seldén SailJuice Winter Series 2022/23:
Fernhurst Books Draycote Dash, Draycote Water Sailing Club
20 & 21 November 2022
Datchet Flyer, Datchet Water Sailing Club
3 & 4 December 2022
Yorkshire Dales Brass Monkey, Yorkshire Dales Sailing Club
27 December 2022
Burghfield Breezer, Burghfield Sailing Club
27 December 2022
Gill Grafham Grand Prix, Grafham Water Sailing Club
2 January 2023
GJW Direct Bloody Mary, Queen Mary Sailing Club
7 January 2023
King George Gallop, King George Sailing Club
21 January 2023
John Merricks Tiger Trophy, Rutland Sailing Club
4 & 5 February 2023
Oxford Blue, Oxford Sailing Club
18 February 2023
Prizegiving at RYA Dinghy Show, Farnborough
25 February 2023
Website: www.sailjuice.com
Photo Credits: Tim Olin
Notes to editors:
Previous winners of the Seldén Sailjuice Winter Series
2021/22 Roger Gilbert & Ben McGrane (505)
2020/21 Simon Horsfield & Katie Burridge/ Natalie Johnson (2000)
2019/20 Simon Horsfield & Katie Burridge (2000)
2018/19 Simon Horsfield & Katie Burridge (2000)
2017/18 Alistair Goodwin (Laser)
2016/17 Matt Mee & Emma Norris (RS200)
2015/16 Ian Dobson & Andy Tunnicliffe (GP14)
2014/15 Nick Craig & various crews (Merlin Rocket)
2013/14 Michael Sims (Solo)
2012/13 Tom Gillard & Simon Potts (Fireball)
2011/12 Peter Gray & Rachael Rhodes (Scorpion)
2010/11 Andy Peake (Musto Skiff)
2009/10 Olly Turner & Richard Whitworth (Merlin Rocket)
SailJuice.com is the 'how to sail and race faster' website, with hundreds of articles and exclusive interviews with National, World and Olympic Champions. Professional sailing journalist and editor of SailJuice.com, Andy Rice, came up with the concept of the SailJuice Winter Series (originally known as the SailJuice Global Warm-Up) as a way of increasing participation levels in dinghy racing during the off-season in the UK.
SailRacer manages event websites and processes online entry for major National, International, Youth and training events, providing online scoring, analysis and advanced sports presentation including GPS tracking and live video.
Seldén Mast Ltd is the world leader in dinghy spars. More races are won by Seldén Spars than any other brand. Dinghy spars are made using Seldén unique XPS aluminium with CNC cut tapers, automated welding and heat treating resulting in the highest quality and most consistent dinghy spars available. Seldén also produces about 400 carbon masts per year for boats including high performance dinghies and race yachts using state of the art Mandrel Filament Moulding Technology.
Craftinsure aims to make boat insurance as effortless as possible with an easy to navigate website and app which allows you to make changes to your cover quickly and with ease. With 'New for Old' cover at competitive prices, Craftinsure insures over 25,000 boats with excellent customer reviews which you can read on Trustpilot.
25/1/2023 09:03