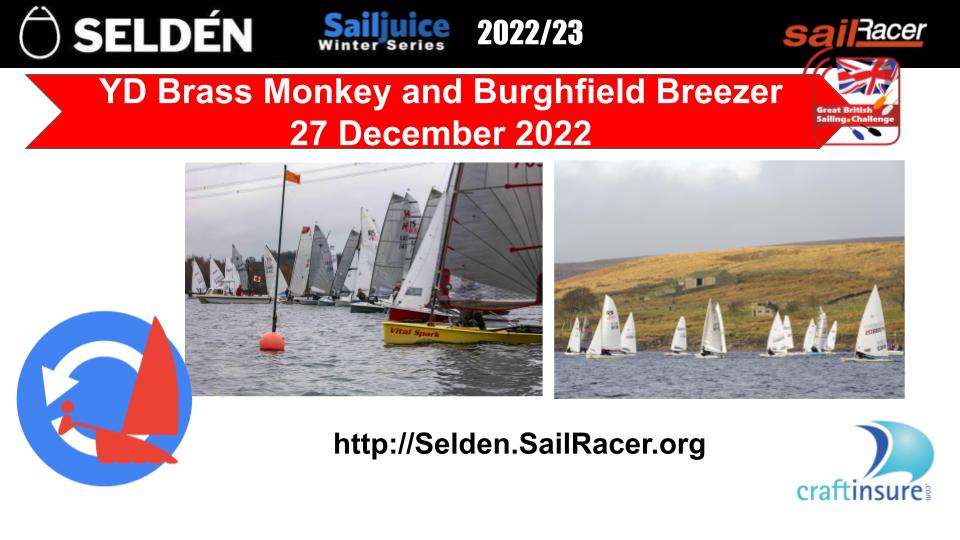 Two events on 27th December, one in the North (Yorkshire Dales Brass Monkey) and in the South (Burghfield Breezer), and a great weather forecast too...
What better way to work off the Christmas overindulgence than a brisk sail on 27 December? For the first time ever, there are two events running on the same day for the Seldén SailJuice Winter Series. With mild temperatures and a moderate to strong south-westerly forecast for both events, it should be a day to remember, whichever you choose.
Yorkshire Dales Brass Monkey (27 December)
It's three years since the last edition of the most northerly event in the series, when Colin and Oly Murray sailed their Norfolk Punt to victory on this stunningly beautiful lake surrounded by the hills of the Dales. There's a good entry already signed up for the event, ranging in speed from the Topper of Fred Buckley to the faster asymmetrics like Max & Colin Rawlinson's 29er and Jono Shelley's Musto Skiff.
Burghfield Breezer (27 December)
Taking place for only the second time, last year's inaugural Burghfield Breezer near Reading in Berkshire was won by Nigel and Andy Bird in an Enterprise. So far there is a good entry from hiking singlehanders like the Blaze, Solo, OK and Laser. Racing his OK is former series winner and multiple dinghy champion Nick Craig, while Ben Flower won the Datchet Flyer at the beginning of the month and is entered for Burghfield in his Laser/ ILCA 7. Among the doublehanders are the Merlin Rocket of James and Sophia Clancy and a Tasar sailed by Peter Bell and Tim Simmons.
UPDATE AFTER 2 OF 9 EVENTS
Here are the scores after the Fernhurst Books Draycote Dash and Datchet Flyer...
Overall Standings
It's a husband v wife 1st and 2nd at the top of the charts so far, with Pete Gray/ Geoff Edwards' Osprey leading Rachael Gray & Amy Clay's Scorpion. In third is Richard Smith's Musto Skiff...
Craftinsure Top Class
Laser (ILCA 7) jumped one place to first, Ospreys up four to second, RS Aero 7 dropped from the top spot to third, K1s up 30 to 4th overall. Scores are based on the best three results for each class across every race...
Top Club
The top three remain the same, but Staunton Harold SC consolidates its position in number one position, Carsington second, and Draycote third. In fourth place, Great Moor jumps 14 places. Based on the best three results for each club across every race...
Junior
1) Freddie SUNDERLAND (Laser Radial (ILCA 6) - DRAYCOTE WATER)
2) Jack HODGKINS/ Isabella BARNES (RS Feva XL - DRAYCOTE SAILING CLUB)
3) Dilara SOYER (Topper - DRAYCOTE WATER SC)
Youth
1) Joe ROWE (Laser Radial (ILCA 6) - DRAYCOTE WATER)
2) Adam CATLOW (Europe - LEIGH & LOWTON SC | ABERSOCH SC)
3) Freddie SUNDERLAND (Laser Radial (ILCA 6) - DRAYCOTE WATER)
Female
1) Rachael GRAY/ Amy CLAY (Scorpion - STAUNTON HAROLD)
2) Ellie CRAIG (RS Aero 6 - BFYC)
3) Dilara SOYER (Topper - DRAYCOTE WATER SC)
Fast Asymmetric
1) Richard SMITH (Musto Skiff - MEDWAY YACHT CLUB)
2) Andy COUCH & Matt COUCH (VX One - BLITHFIELD SC)
3) Jonathan CARTER (Vortex - RICKMANSWORTH SAILING CLUB)
Fast Symmetric
1) Peter GRAY & GEOFF EDWARDS (Osprey - STAUNTON HAROLD)
2) Roger BLAKE & ROB BURDEKIN (Osprey - GREAT MOOR SAILING CLUB)
3) Tim BIRD & MIKE PRIDDLE (505 - BURTON SC)
Slow Asymmetric
1) James WILLIAMS & SARAH TUPPEN (RS200 - CHEW VALLEY LAKE SC)
2) Nigel & Diana PEPPERDINE (RS200 - STAUNTON HAROLD SC)
3) Rory MOPPETT & SARAH SEDDON (2000 - BOUGH BEECH)
Slow Symmetric
1) Rachael GRAY & AMY CLAY (Scorpion - STAUNTON HAROLD)
2) Richard SIMS (K1 - CARSINGTON)
3) Paul YOUNG & NATHAN MCGRORY (Enterprise - MIDLAND SAILING CLUB)
A flurry of events in late December
Hot on the heels of the two events on 27 December, on 2 January the Grafham Grand Prix takes place not far from Huntingdon.
Online entry for all the events in the series is available at www.sailjuiceseries.com
THE EVENTS
The following events are in the Seldén SailJuice Winter Series 2022/23:
Fernhurst Books Draycote Dash, Draycote Water Sailing Club
Datchet Flyer, Datchet Water Sailing Club
Yorkshire Dales Brass Monkey, Yorkshire Dales Sailing Club
Burghfield Breezer, Burghfield Sailing Club
Grafham Grand Prix, Grafham Water Sailing Club
Bloody Mary, Queen Mary Sailing Club
King George Gallop, King George Sailing Club
John Merricks Tiger Trophy, Rutland Sailing Club
Oxford Blue, Oxford Sailing Club
Prizegiving at RYA Dinghy Show, Farnborough
You can find out more about the Series here: www.SailJuiceSeries.com
Further Information for media:
Please contact Andy Rice
email: info@sailjuice.com
Website: www.sailjuice.com
Photo Credits: Tim Olin
Notes to editors:
Previous winners of the Seldén Sailjuice Winter Series
2021/22
Roger Gilbert & Ben McGrane (505)
2020/21
Simon Horsfield & Katie Burridge/ Natalie Johnson (2000)
2019/20
Simon Horsfield & Katie Burridge (2000)
2018/19
Simon Horsfield & Katie Burridge (2000)
2017/18
Alistair Goodwin (Laser)
2016/17
Matt Mee & Emma Norris (RS200)
2015/16
Ian Dobson & Andy Tunnicliffe (GP14)
2014/15
Nick Craig & various crews (Merlin Rocket)
2013/14
Michael Sims (Solo)
2012/13
Tom Gillard & Simon Potts (Fireball)
2011/12
Peter Gray & Rachael Rhodes (Scorpion)
2010/11
Andy Peake (Musto Skiff)
2009/10
Olly Turner & Richard Whitworth (Merlin Rocket)
SailJuice.com is the 'how to sail and race faster' website, with hundreds of articles and exclusive interviews with National, World and Olympic Champions. Professional sailing journalist and editor of SailJuice.com, Andy Rice, came up with the concept of the SailJuice Winter Series (originally known as the SailJuice Global Warm-Up) as a way of increasing participation levels in dinghy racing during the off-season in the UK.
SailRacer manages event websites and processes online entry for major National, International, Youth and training events, providing online scoring, analysis and advanced sports presentation including GPS tracking and live video.
Seldén Mast Ltd is the world leader in dinghy spars. More races are won by Seldén Spars than any other brand. Dinghy spars are made using Seldén unique XPS aluminium with CNC cut tapers, automated welding and heat treating resulting in the highest quality and most consistent dinghy spars available. Seldén also produces about 400 carbon masts per year for boats including high performance dinghies and race yachts using state of the art Mandrel Filament Moulding Technology.
Craftinsure aims to make boat insurance as effortless as possible with an easy to navigate website and app which allows you to make changes to your cover quickly and with ease. With 'New for Old' cover at competitive prices, Craftinsure insures over 25,000 boats with excellent customer reviews which you can read on Trustpilot.
24/12/2022 16:57