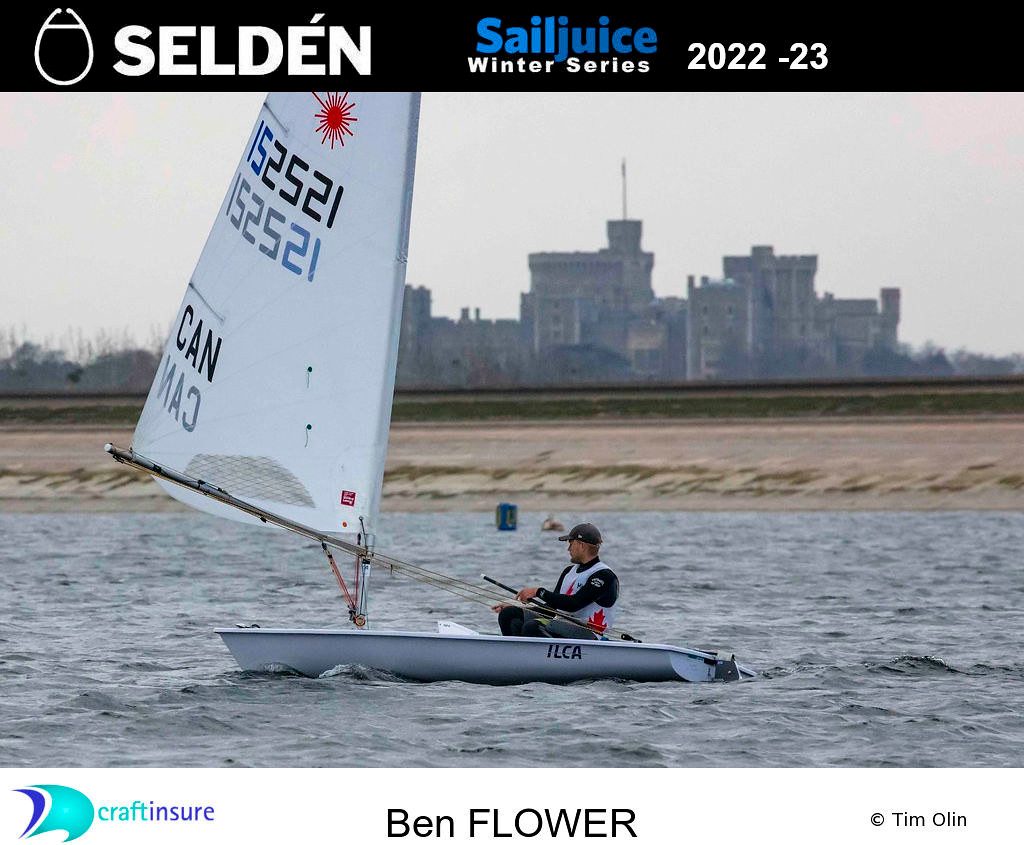 Last night Series organisers Andy Rice and Simon Lovesey hosted an update and were please to be joined by Datchet Flyer winner, Ben Flower, Craftinsure's Rob Cage and Datchet PRO Seb Camisuli
Ben Flower hiked his ILCA 7 singlehander to victory at the Datchet Flyer, the the second event in this season's Seldén SailJuice Winter Series. Taking place over the first weekend of December near London's Heathrow Airport, a mixed handicap fleet of 52 entries ranging from a foiling Waszp to a three-man Thames A-Rater came to compete at Queen Mother Reservoir. Ages of competitors ranged from 13 to 80-plus.
Some fleets use the events in the Seldén SailJuice Winter Series as a rallying point for their class during the colder months. The K1 keelboats were out in force, with national champion Simon Hawkes holding a class training session on the Friday before competition. The Series also likes to promote family sailing and there were three wise Kings who came to race in their K1s against each other - Hilly, Geoff and Jason.
There was also a good youth turnout in the 420 fleet which has done well at past editions of the Datchet Flyer. However it was Ben Flower from Paington in the west country who burst into the lead by winning the first two races of Saturday's back-to-back competition. In the first race Flower finished 41 seconds ahead on corrected time ahead of the Shoreham 420 duo of Joe Warwicker and Hugo Valentine. In the second race Wimbleball's Simon Hawkes raced his K1 keelboat to just 11 seconds behind Flower's ILCA 7, with a good number of boat types putting in a good performance under the well-honed PY numbers of the Great Lakes Handicap system which has been used for the past decade of the Series.
In race three, Fiona Hampshire and Hugh Shone from Swanage managed to sneak in an extra lap of the course to stretch their RS800 legs in clear air and take the win on corrected time by 36 seconds. Even then, it was Flower who again put in a good showing, finishing second behind the twin-trapeze winners and just 4 seconds in front of Warwicker/ Valentine's well-sailed 420.
Pursuit of Victory
For Sunday's pursuit race the fleet was split into two, to allow a longer race for the faster boats. In Slow Handicap, it was Flower again who managed to break into the lead after 70 minutes and maintain the advantage all the way to the finish. In Fast Handicap, Rachael Gray & Amy Clay raced their Scorpion to an early lead, with Rachael succeeding in holding off the advances of her husband Pete Gray who, with crew Geoff Edwards, were closing in on the lead with their Osprey. Gray & Clay held on narrowly for the race win ahead of their family rivals from Staunton Harold while Jamie Stewart's Thames A Rater from Thames Sailing Club cruised majestically through the slower boats to grab third across the finish line.
Overall, no one could come close to the performance of Ben Flower in the ILCA 7, but Arran Holman's consistent performance in the RS Aero 7 gave the Hollowell sailor the runner-up spot, 2 points ahead of Gray & Edwards' Osprey. The moderate conditions at Datchet delivered tight racing for a wide range of boats, with 10 different classes filling the top 12 places overall.
Seldén Sticker Winners
Competitors have been keen to take up on the Seldén sticker competition. Putting Seldén stickers on your boat enters you into a prize draw for a Seldén R60 ratchet block, and Saturday's winners were Fireball racers Kath & Thomas Broatch from Port Dinorwic. Sunday's ratchet block went to Finlay Cochrane racing an ILCA 4 (Laser 4.7) singlehander, a reward for the 13-year-old who travelled all the way from Yorkshire Dales Sailing Club to take part in the event.
Top speeds as measured by the SailRacer trackers were the RS800 of Hampshire & Shone, and the Musto Skiff of Richard Smith from Medway Yacht Club. On corrected time, Jonathan Carter's Vortex from Rickmansworth achieved peak speed along with the D-One of Mark Addison from Upper Thames.
Overall Series Rankings: It's a Family Affair
After the first two events, Staunton Harold sailors hold the top two spots. In fact it's Mr and Mrs Gray whose Osprey and Scorpion entries hold the top two places, ahead of Richard Smith's Musto Skiff.
https://enter.sailracer.org/ eventsites/content.asp? eventid=224528&id=48408
Craftinsure Top Class Rankings
After two events and nine races, 36 different classes have competed, with the Craftinsure Top Class Rankings based on the best three results for each class across every race. With a strong showing at Datchet and three boats in the top 10, the Laser (ILCA 7) class jump to top spot, hoping to better last season's second place. After a strong start at Draycote, RS Aero 7s dropped to second. The Ospreys climb three places to third,
and the K1s a massive jump of 20 places to 4th overall.
https://enter.sailracer.org/ eventsites/content.asp?id= 48394&eventid=224528
Online Prizegiving and Update at 7pm on Thursday 8 December
Series organisers Simon Lovesey and Andy Rice will be hosting a Facebook Live event at 7pm on Thursday 8 December, with an online wrap-up of the Datchet Flyer and a look forward to the rest of this season's Seldén SailJuice Winter Series. The winner of another Seldén R60 ratchet block will also be announced, based on which sailor's photo by series photographer Tim Olin has featured prominently in social media. Join the live show this Thursday...
https://www.facebook.com/ SeldénSailJuiceWinterSeries
A flurry of events in late December
Two events are taking place on the same day, 27 December, at opposite ends of the country. In the south, it's the Burghfield Breezer near Reading. In the north, it's the Brass Monkey hosted by Yorkshire Dales Sailing Club. Then on 2 January the Grafham Grand Prix takes place not far from Huntingdon.
Online entry for all the events in the series is available at www.sailjuiceseries.com
THE EVENTS

The following events are in the Seldén SailJuice Winter Series 2022/23:
Fernhurst Books Draycote Dash, Draycote Water Sailing Club
20 & 21 November 2022
Datchet Flyer, Datchet Water Sailing Club
3 & 4 December 2022
Yorkshire Dales Brass Monkey, Yorkshire Dales Sailing Club
27 December 2022
Burghfield Breezer, Burghfield Sailing Club
27 December 2022
Grafham Grand Prix, Grafham Water Sailing Club
2 January 2023
Bloody Mary, Queen Mary Sailing Club
7 January 2023
King George Gallop, King George Sailing Club
21 January 2023
John Merricks Tiger Trophy, Rutland Sailing Club
4 & 5 February 2023

Oxford Blue, Oxford Sailing Club
18 February 2023
Prizegiving at RYA Dinghy Show, Farnborough
25 February 2023
You can find out more about the Series here: www.SailJuiceSeries.com
Website: www.sailjuice.com
Photo Credits: Tim Olin
Notes to editors:
Previous winners of the Seldén Sailjuice Winter Series


2021/22 Roger Gilbert & Ben McGrane (505)
2020/21 Simon Horsfield & Katie Burridge/ Natalie Johnson (2000)
2019/20 Simon Horsfield & Katie Burridge (2000)
2018/19 Simon Horsfield & Katie Burridge (2000)
2017/18 Alistair Goodwin (Laser)
2016/17 Matt Mee & Emma Norris (RS200)
2015/16 Ian Dobson & Andy Tunnicliffe (GP14)
2014/15 Nick Craig & various crews (Merlin Rocket)
2013/14 Michael Sims (Solo)
2012/13 Tom Gillard & Simon Potts (Fireball)
2011/12 Peter Gray & Rachael Rhodes (Scorpion)
2010/11 Andy Peake (Musto Skiff)
2009/10 Olly Turner & Richard Whitworth (Merlin Rocket)
SailJuice.com is the 'how to sail and race faster' website, with hundreds of articles and exclusive interviews with National, World and Olympic Champions. Professional sailing journalist and editor of SailJuice.com, Andy Rice, came up with the concept of the SailJuice Winter Series (originally known as the SailJuice Global Warm-Up) as a way of increasing participation levels in dinghy racing during the off-season in the UK.
SailRacer manages event websites and processes online entry for major National, International, Youth and training events, providing online scoring, analysis and advanced sports presentation including GPS tracking and live video.
Seldén Mast Ltd is the world leader in dinghy spars. More races are won by Seldén Spars than any other brand. Dinghy spars are made using Seldén unique XPS aluminium with CNC cut tapers, automated welding and heat treating resulting in the highest quality and most consistent dinghy spars available. Seldén also produces about 400 carbon masts per year for boats including high performance dinghies and race yachts using state of the art Mandrel Filament Moulding Technology.
Craftinsure aims to make boat insurance as effortless as possible with an easy to navigate website and app which allows you to make changes to your cover quickly and with ease. With 'New for Old' cover at competitive prices, Craftinsure insures over 25,000 boats with excellent customer reviews which you can read on Trustpilot.
9/12/2022 08:09