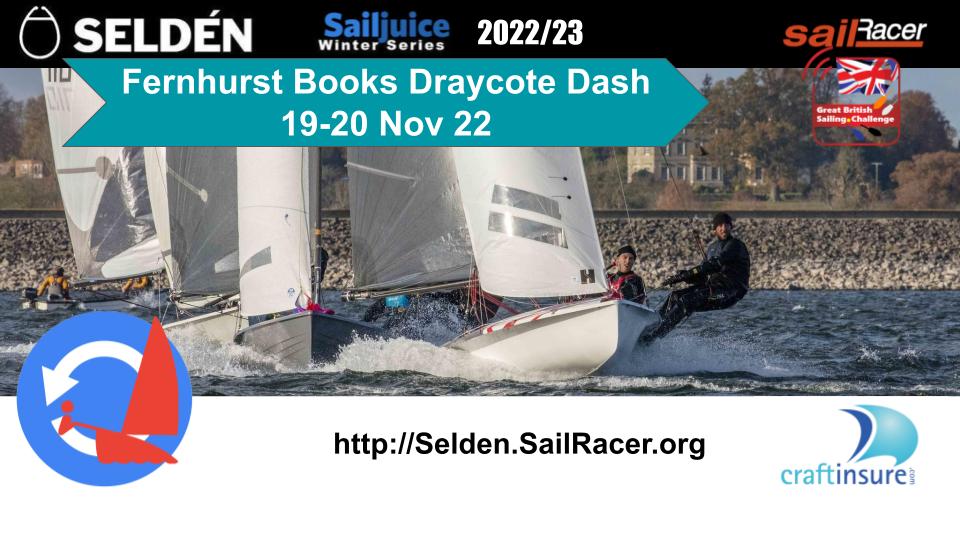 It's just a few days until the Fernhurst Books Draycote Dash, and entry for the first event of this season's Seldén SailJuice Winter Series is closing tonight...
The 14th edition of the Seldén SailJuice Winter Series starts this weekend with the Fernhurst Books Draycote Dash on 19 & 20 November 2022. It's the first of nine events across the season, culminating with the series prizegiving on the main stage of the RYA Dinghy Show at the end of February.
But be quick! Entries are closing this Tuesday for the Draycote Dash which entails four back-to-back handicap races on Saturday and the Pursuit Race on Sunday morning. Despite the summer drought, water level is close to normal and so there is plenty of space for good competition.
Among the competitors already entered are Joe Rowe from Draycote Water who became Topper World Champion ahead of a 144-boat fleet on Lake Garda earlier this year. For the Dash, Joe will be racing on his home waters in an ILCA 6 (Laser Radial).
Overall winner of the Seldén SailJuice Winter Series more than a decade ago, Peter Gray is this time helming an Osprey with Geoff Edwards on the trapeze. There is also a good gathering of Challenger singlehander trimarans lined up to compete at the Dash.
WIN A SELDÉN R60 RATCHET BLOCK!
Want to win a Seldén R60 Ratchet Block? It's one of the grippiest blocks on the market, and is kind to your mainsheet too.
For displaying a Seldén sticker on your boat whilst racing at the Seldén Sailjuice Winter Series, you'll be entered into a prize draw to win an R60 to put on your boat. Seldén are awarding two R60s for each of the events in this season's series.
Series photographer Tim Olin will be capturing images of you whilst you compete on the water. A sticker on either side of the bow doubles your chances of being 'Seldén papped' by Tim, but if you can think of somewhere more inventive and visible to position your sticker(s), then see if you can grab Tim's attention with your creativity!
Seldén stickers will be handed out at morning registration.
ONLINE BRIEFING
The club members at Draycote Water Sailing Club have turned the Draycote Dash into a slick operation designed to give competitors the best experience possible. No need to wait around for a race officer's briefing, because you can watch the online briefing here which tells you all you need to know in advance of the day...
https://youtu.be/Fl1bvC3C-Ao
FACEBOOK LIVE THIS MONDAY
Series organisers Simon Lovesey and Andy Rice hosted a Facebook Live event on Monday 14 November, where they'll run through some of the fun stuff to expect during the course of this season's Seldén SailJuice Winter Series.
https://www.facebook.com/SeldénSailJuiceWinterSeries
Entry for the Dash and all the events is open at www.sailjuiceseries.com
THE EVENTS
The following events are in the Seldén SailJuice Winter Series 2022/23:
Fernhurst Books Draycote Dash, Draycote Water Sailing Club
Datchet Flyer, Datchet Water Sailing Club
Yorkshire Dales Brass Monkey, Yorkshire Dales Sailing Club
Burghfield Breezer, Burghfield Sailing Club
Grafham Grand Prix, Grafham Water Sailing Club
Bloody Mary, Queen Mary Sailing Club
King George Gallop, King George Sailing Club
John Merricks Tiger Trophy, Rutland Sailing Club
Oxford Blue, Oxford Sailing Club
Prizegiving at RYA Dinghy Show, Farnborough
You can find out more about the Series here: www.SailJuiceSeries.com
Photo Credits: Tim Olin
Notes to editors:
Previous winners of the Seldén Sailjuice Winter Series
2021/22
Roger Gilbert & Ben McGrane (505)
2020/21
Simon Horsfield & Katie Burridge/ Natalie Johnson (2000)
2019/20
Simon Horsfield & Katie Burridge (2000)
2018/19
Simon Horsfield & Katie Burridge (2000)
2017/18
Alistair Goodwin (Laser)
2016/17
Matt Mee & Emma Norris (RS200)
2015/16
Ian Dobson & Andy Tunnicliffe (GP14)
2014/15
Nick Craig & various crews (Merlin Rocket)
2013/14
Michael Sims (Solo)
2012/13
Tom Gillard & Simon Potts (Fireball)
2011/12
Peter Gray & Rachael Rhodes (Scorpion)
2010/11
Andy Peake (Musto Skiff)
2009/10
Olly Turner & Richard Whitworth (Merlin Rocket)
SailJuice.com is the 'how to sail and race faster' website, with hundreds of articles and exclusive interviews with National, World and Olympic Champions. Professional sailing journalist and editor of SailJuice.com, Andy Rice, came up with the concept of the SailJuice Winter Series (originally known as the SailJuice Global Warm-Up) as a way of increasing participation levels in dinghy racing during the off-season in the UK.
SailRacer manages event websites and processes online entry for major National, International, Youth and training events, providing online scoring, analysis and advanced sports presentation including GPS tracking and live video.
Seldén Mast Ltd is the world leader in dinghy spars. More races are won by Seldén Spars than any other brand. Dinghy spars are made using Seldén unique XPS aluminium with CNC cut tapers, automated welding and heat treating resulting in the highest quality and most consistent dinghy spars available. Seldén also produces about 400 carbon masts per year for boats including high performance dinghies and race yachts using state of the art Mandrel Filament Moulding Technology.
Craftinsure.com
is the UK's leading online boat insurer, established in 2001.
Designed to provide a quick and easy way to insure boats online, there is also a helpline (0345 2607 888) providing access to a team of specialists who are also keen sailors.
20 seconds to get a quote.
Setting up a new policy only takes 2 minutes, whether online or by calling us.
Low online premiums.
Fully Comprehensive cover.
15/11/2022 11:17