Seldén SailJuice Winter Series continues with King George Gallop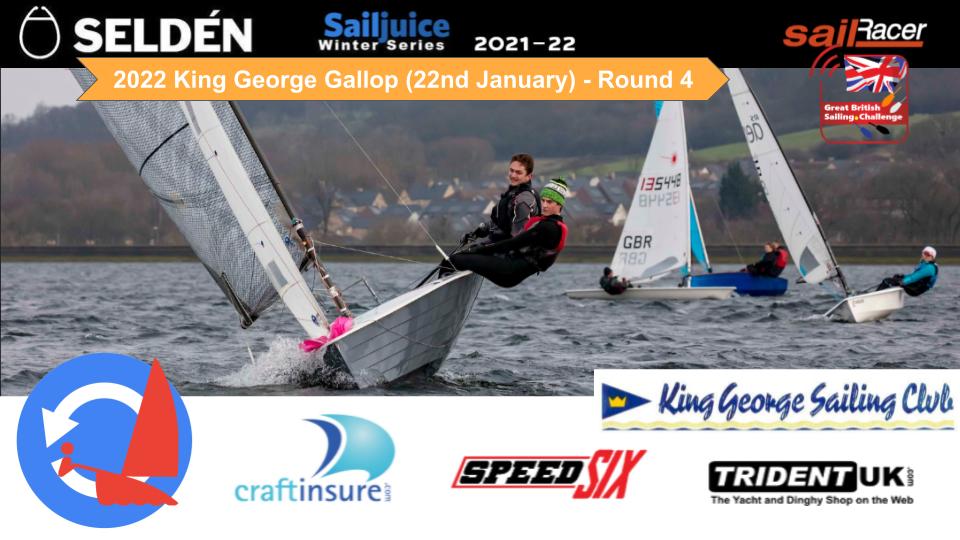 After three events and 11 races completed, next event in the Seldén SailJuice Winter Series is the King George Gallop in North London on 22 January...
The Seldén SailJuice Winter Series is at the halfway point with the next event being the King George Gallop in North London on 22 January. This is a one day dinghy race event comprising of three races based on the Great Lakes Handicap system.
King George Sailing Club (KGSC) will be adhering strictly to the UK Government's current Covid guidelines.
To make this event as safe as possible, KGSC will take the following steps:
· An online briefing be delivered via zoom at 7.00pm on Friday 20th January. This will be recorded and remain available on Youtube over the weekend.
· All entry and registration changes can be performed online. There will be no physical registration - simply collect your tracker to confirm participation.
· There will be a maximum entry of just 70 boats.
· Results will be made available online. There will be no formal prizegiving – This will instead be held via a zoom call on Monday evening (24 Jan) at 7.00pm
· King George will not be making food available for this event – bring your own packed lunch.
· All non-exempt volunteers will wear masks wherever practicable – and KGSC asks competitors to do the same.
· Hand sanitiser will be available around the site.
· Competitors are encouraged to change and keep their kit bags in their cars. However, changing rooms and toilets will be available to those competitors who choose to use them.
King George are really proud to have developed a reputation for delivering a friendly and welcoming Gallop event at the beginning of each year. "We look forward to seeing you this year and promise you can look forward to lots of smiling faces – albeit hidden behind a mask 😊"
THE EVENTS
The following events are in the Seldén SailJuice Winter Series 2021/22:
Fernhurst Books Draycote Dash, Draycote Water SC
Datchet Flyer, Datchet Water Sailing Club
Yorkshire Dales Brass Monkey, Yorkshire Dales SC
Burghfield Breezer, Burghfield Sailing Club
Grafham Grand Prix, Grafham Water Sailing Club
CANCELLED - GJW Direct Bloody Mary, Queen Mary Sailing Club
King George Gallop, King George Sailing Club
John Merricks Tiger Trophy, Rutland Sailing Club
Oxford Blue, Oxford Sailing Club
You can find out more about the Series here: www.SailJuiceSeries.com
Photo Credits: Tim Olin
Notes to editors:
Previous winners of the Seldén Sailjuice Winter Series
2020/21
Simon Horsfield & Katie Burridge/ Natalie Johnson (2000)
2019/20
Simon Horsfield & Katie Burridge (2000)
2018/19
Simon Horsfield & Katie Burridge (2000)
2017/18
Alistair Goodwin (Laser)
2016/17
Matt Mee & Emma Norris (RS200)
2015/16
Ian Dobson & Andy Tunnicliffe (GP14)
2014/15
Nick Craig & various crews (Merlin Rocket)
2013/14
Michael Sims (Solo)
2012/13
Tom Gillard & Simon Potts (Fireball)
2011/12
Peter Gray & Rachael Rhodes (Scorpion)
2010/11
Andy Peake (Musto Skiff)
2009/10
Olly Turner & Richard Whitworth (Merlin Rocket)
SailJuice.com is the 'how to sail and race faster' website, with hundreds of articles and exclusive interviews with National, World and Olympic Champions. Professional sailing journalist and editor of SailJuice.com, Andy Rice, came up with the concept of the SailJuice Winter Series (originally known as the SailJuice Global Warm-Up) as a way of increasing participation levels in dinghy racing during the off-season in the UK.
SailRacer manages event websites and processes online entry for major National, International, Youth and training events, providing online scoring, analysis and advanced sports presentation including GPS tracking and live video.
Seldén Mast Ltd is the world leader in dinghy spars. More races are won by Seldén Spars than any other brand. Dinghy spars are made using Seldén unique XPS aluminium with CNC cut tapers, automated welding and heat treating resulting in the highest quality and most consistent dinghy spars available. Seldén also produces about 400 carbon masts per year for boats including high performance dinghies and race yachts using state of the art Mandrel Filament Moulding Technology.
14/1/2022 09:58
Photo © SailRacer
| | | |
| --- | --- | --- |
| 20/21 Nov 21 | Draycote Dash | Draycote Water SC |
| 11/12 Dec 21 | Datchet Flyer | Datchet Water SC |
| 27 Dec 21 | Brass Monkey | Yorkshire Dales SC |
| 27 Dec 21 | Burghfield Breezer | Burghfield SC |
| 2 Jan 22 | Grafham GP | Grafham Water SC |
| 8 Jan 22 | Bloody Mary | Queen Mary SC |
| 22 Jan 22 | King George Gallop | King George SC |
| 5/6 Feb 22 | JMST Tiger Trophy | Rutland SC |
| 19 Feb 22 | Oxford Blue | Oxford SC |