CAN YOU BEAT DYLAN AT THE DATCHET FLYER?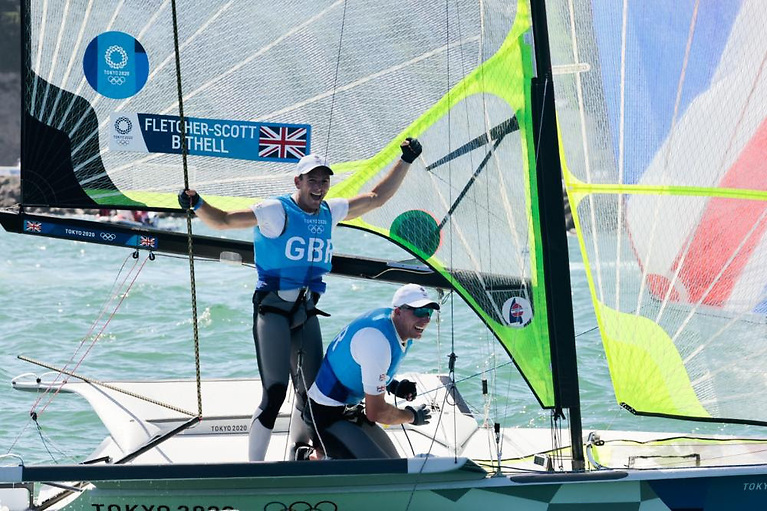 Tokyo 2020 Olympic Champion in the 49er, Dylan Fletcher, jumps into a National 18 dinghy for the first time as he competes in Event #2 of the Seldén SailJuice Winter Series, this weekend's Datchet Flyer...
The 49er Olympic Champion Dylan Fletcher is among the list of competitors for this weekend's Datchet Flyer, the second event of the Seldén SailJuice Winter Series. This year's winner at Tokyo 2020 is stepping into the back of a National 18 dinghy with Ben Wilson and Michael Batchelor from the Isle of Man Yacht Club.
"Michael's usual helm couldn't make it so I'm coming along and I'm really looking forward to it," said Fletcher. "I've always wanted to do more of the Sailjuice events, the Bloody Mary, the Tiger Trophy, but never been able to make it. Never raced a National 18 before but it should be fun!"
With a moderate south-westerly forecast for the Saturday and slightly stronger for Sunday, it promises to be a good day for the 91 entries from 32 classes.
There's a maximum entry limit of 100, so if you want to compete against Dylan and the rest of the mixed handicap fleet, GET IN QUICK!
Enter here:
www.sailjuiceseries.com
At 1900 hours this evening there's an Online Briefing for all competitors at
https://www.facebook.com/SeldenSailJuiceWinterSeries
The online prizegiving will take place next Thursday evening.
Here's the list of classes entered so far for the Datchet Flyer:
32 Classes Entered
420 : 17
470 : 1
505 : 3
Albacore : 1
Blaze : 2
D-Zero : 3
Enterprise : 2
GP14 : 1
Hadron H2 : 4
K1 : 1
Laser (ILCA 7) : 4
Laser 4.7 (ILCA 4) : 2
Laser Radial (ILCA 6) : 5
Merlin Rocket : 3
Miracle : 1
Musto Skiff : 1
National 18 : 2
Osprey : 4
Phantom : 1
RS Aero 7 : 8
RS Feva XL : 1
RS Vareo : 3
RS200 : 6
RS300 : 1
RS400 : 3
RS500 : 1
Scorpion : 2
Solo : 3
Streaker : 1
Supernova : 2
Topper : 1
Vortex : 1
To enter the Datchet Flyer and other events in the Series, go here:
www.sailjuiceseries.com
THE EVENTS
The following events are in the Seldén SailJuice Winter Series 2021/22:
Fernhurst Books Draycote Dash, Draycote Water SC
Datchet Flyer, Datchet Water Sailing Club
Yorkshire Dales Brass Monkey, Yorkshire Dales SC
Burghfield Breezer, Burghfield Sailing Club
Grafham Grand Prix, Grafham Water Sailing Club
Bloody Mary, Queen Mary Sailing Club
King George Gallop, King George Sailing Club
John Merricks Tiger Trophy, Rutland Sailing Club
Oxford Blue, Oxford Sailing Club
You can find out more about the Series here: www.SailJuiceSeries.com
Photo Credits: Tim Olin & Sailing Energy (Dylan Fletcher photo)
Notes to editors:
Previous winners of the Seldén Sailjuice Winter Series
2020/21
Simon Horsfield & Katie Burridge/ Natalie Johnson (2000)
2019/20
Simon Horsfield & Katie Burridge (2000)
2018/19
Simon Horsfield & Katie Burridge (2000)
2017/18
Alistair Goodwin (Laser)
2016/17
Matt Mee & Emma Norris (RS200)
2015/16
Ian Dobson & Andy Tunnicliffe (GP14)
2014/15
Nick Craig & various crews (Merlin Rocket)
2013/14
Michael Sims (Solo)
2012/13
Tom Gillard & Simon Potts (Fireball)
2011/12
Peter Gray & Rachael Rhodes (Scorpion)
2010/11
Andy Peake (Musto Skiff)
2009/10
Olly Turner & Richard Whitworth (Merlin Rocket)
SailJuice.com is the 'how to sail and race faster' website, with hundreds of articles and exclusive interviews with National, World and Olympic Champions. Professional sailing journalist and editor of SailJuice.com, Andy Rice, came up with the concept of the SailJuice Winter Series (originally known as the SailJuice Global Warm-Up) as a way of increasing participation levels in dinghy racing during the off-season in the UK.
SailRacer manages event websites and processes online entry for major National, International, Youth and training events, providing online scoring, analysis and advanced sports presentation including GPS tracking and live video.
Seldén Mast Ltd is the world leader in dinghy spars. More races are won by Seldén Spars than any other brand. Dinghy spars are made using Seldén unique XPS aluminium with CNC cut tapers, automated welding and heat treating resulting in the highest quality and most consistent dinghy spars available. Seldén also produces about 400 carbon masts per year for boats including high performance dinghies and race yachts using state of the art Mandrel Filament Moulding Technology.
10/12/2021 19:38
| | | |
| --- | --- | --- |
| 20/21 Nov 21 | Draycote Dash | Draycote Water SC |
| 11/12 Dec 21 | Datchet Flyer | Datchet Water SC |
| 27 Dec 21 | Brass Monkey | Yorkshire Dales SC |
| 27 Dec 21 | Burghfield Breezer | Burghfield SC |
| 2 Jan 22 | Grafham GP | Grafham Water SC |
| 8 Jan 22 | Bloody Mary | Queen Mary SC |
| 22 Jan 22 | King George Gallop | King George SC |
| 5/6 Feb 22 | JMST Tiger Trophy | Rutland SC |
| 19 Feb 22 | Oxford Blue | Oxford SC |