'HISTORY OF THE DASH' FACEBOOK LIVE THIS SATURDAY AFTER THE RUGBY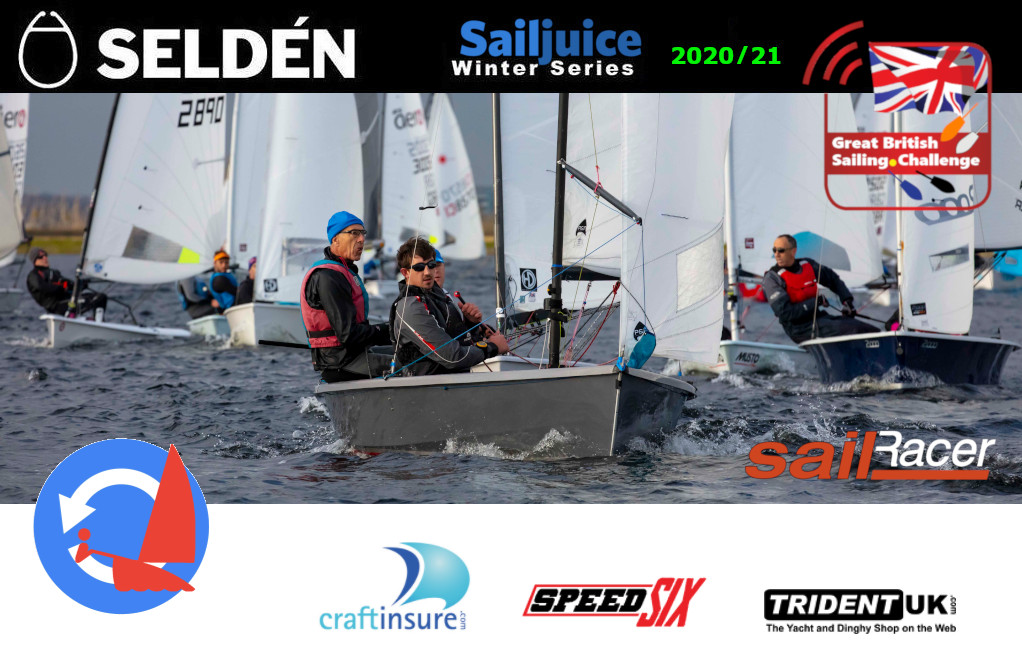 This Saturday at 5.30pm GMT, the organisers of the Seldén SailJuice Winter Series are hosting a 'History of the Draycote Dash' Facebook Live session. It has been timed to start soon after the conclusion of the England v Ireland rugby match on Saturday afternoon.
Go here to join the FB Live session:
https://www.facebook.com/ SeldenSailJuiceWinterSeries/ videos/
Hosted by Simon Lovesey and Andy Rice, the Live Session will be taking place 10 years to the day since the inaugural Draycote Dash took place. This weekend should also have been the 2020 edition of the Fernhurst Books Draycote Dash, but Covid put the kybosh on that. Instead, a new date is in place for the weekend of 6 & 7 March 2021.
To make up for the lack of racing at Draycote there will be a celebration of the event and the winners of the past decade, with the help of Draycote Water's commodore and publisher of Fernhurst Books, Jeremy Atkins.
Also making an appearance will be one of Selden Masts' own sailors along with Craftinsure's Rob Cage, a regular winter competitor. And Jon Holt, who founded the groundbreaking Scaramouche Sailing Trust in 2014. His students from Greig City Academy in London have been making waves in bigger boats including competing in the Rolex Fastnet Race.
This weekend would have been Scaramouche's competitive debut in dinghies, as they were entered in 420s. Instead we'll get to hear from Jon why he targeted the Seldén SailJuice Winter Series as a good place for the students to hone their competitive dinghy skills.
DATCHET FLYER READY FOR TAKE-OFF
Join us for the Facebook Live and we'll bring you up to date with the latest news and where we believe things are headed. Next event on the schedule is the Datchet Flyer and the race officer and staff at Datchet Water Sailing Club are all ready to host what is expected to be a sell-out regatta. In fact, with 170 pre-registrations already, the greater challenge will be to work out who gets to go and who must regrettably stay at home. Datchet can't accommodate an entry of that size. Read below for the criteria as to how sailors are prioritised for competition. In short, those who don't get to race at Datchet will move higher up the priority list for other events.
All things being well and assuming we're released from national lockdown after 2 December, the Datchet plan is for Doublehanders to race on the Saturday 5 December, and Singlehanders on Sunday 6 December.
Pre-register now
Plans continue for the other events in the Series to go ahead as originally announced, always with the proviso that things can change at any time, which is why the criteria for pre-registration have been designed to be as flexible and fair as possible.
Here's a reminder of how pre-registration works, and the criteria by which entries are prioritised:
£5 advance deducted against the actual entry fee for each event
Spaces only allocated to those who have paid an advance against a number of criteria depending on the circumstances of each event
Order when payment for advance received (earlier entries given priority)
Class allocation - to ensure spread of classes represented
Demographic allocation (age and gender)
Number of events registered for
Number of events attended in previous Seldén SailJuice Winter Series
Host club members allocation
Distance to travel
If a sailor is successful in being allocated a space against an individual event they will be sent a payment link for the balance of the entry fee which has to be paid within 10 days unless otherwise stated in the payment request.
If event cancelled, advance refunded 100%.
If entry not allocated, advance refunded 100%.
No refunds if the event goes ahead and sailor doesn't attend after being allocated a space.
Pre-registration for the events is now open at www.sailjuiceseries.com
THE EVENTS

The following events are in the Seldén SailJuice Winter Series 2020/21:
Datchet Flyer, Datchet Water Sailing Club
5 & 6 December 2020
Burghfield Brass Monkey, Burghfield Sailing Club
27 December 2020
Grafham Grand Prix, Grafham Water Sailing Club
3 January 2021
CANCELLED - Bloody Mary, Queen Mary Sailing Club (remote alternative)
9 January 2021
King George Gallop, King George Sailing Club
23 January 2021
John Merricks Tiger Trophy, Rutland Sailing Club
6 & 7 February 2021

Oxford Blue, Oxford Sailing Club
13 February 2021
RESCHEDULED - Fernhurst Books Draycote Dash, Draycote Water Sailing Club
6 & 7 March 2021
You can find out more about the Series here: www.SailJuiceSeries.com
Photo Credits: Tim Olin
Notes to editors:
Previous winners of the Seldén Sailjuice Winter Series

2019/20 Simon Horsfield & Katie Burridge (2000)
2018/19 Simon Horsfield & Katie Burridge (2000)
2017/18 Alistair Goodwin (Laser)
2016/17 Matt Mee & Emma Norris (RS200)
2015/16 Ian Dobson & Andy Tunnicliffe (GP14)
2014/15 Nick Craig & various crews (Merlin Rocket)
2013/14 Michael Sims (Solo)
2012/13 Tom Gillard & Simon Potts (Fireball)
2011/12 Peter Gray & Rachael Rhodes (Scorpion)
2010/11 Andy Peake (Musto Skiff)
2009/10 Olly Turner & Richard Whitworth (Merlin Rocket)
SailJuice.com is the 'how to sail and race faster' website, with hundreds of articles and exclusive interviews with National, World and Olympic Champions. Professional sailing journalist and editor of SailJuice.com, Andy Rice, came up with the concept of the SailJuice Winter Series (originally known as the SailJuice Global Warm-Up) as a way of increasing participation levels in dinghy racing during the off-season in the UK.
SailRacer manages event websites and processes online entry for major National, International, Youth and training events, providing online scoring, analysis and advanced sports presentation including GPS tracking and live video.
Seldén Mast Ltd is the world leader in dinghy spars. More races are won by Seldén Spars than any other brand. Dinghy spars are made using Seldén unique XPS aluminium with CNC cut tapers, automated welding and heat treating resulting in the highest quality and most consistent dinghy spars available. Seldén also produces about 400 carbon masts per year for boats including high performance dinghies and race yachts using state of the art Mandrel Filament Moulding Technology.
19/11/2020 15:19
Photo © Tim Olin
*Draft Schedule
Draycote Dash
21-22 November 2020
6-7 March 2021
Datchet Flyer
5-6 December 2020
Burghfield Brass Monkey
27 December 2020
20 February 2021
Round 4 - Remote
3 January 2021
Round 5 - Remote
9 January 2021
King George Gallop
23 January 2021
Postponed
John Merricks Tiger Trophy
6-7 February 2021
(28/29 Aug)
Oxford Blue
13 February 2021
Postponed
Alton Water
27/28 March 2021
*Details subject to change