12th EDITION OF SELDÉN SAILJUICE WINTER SERIES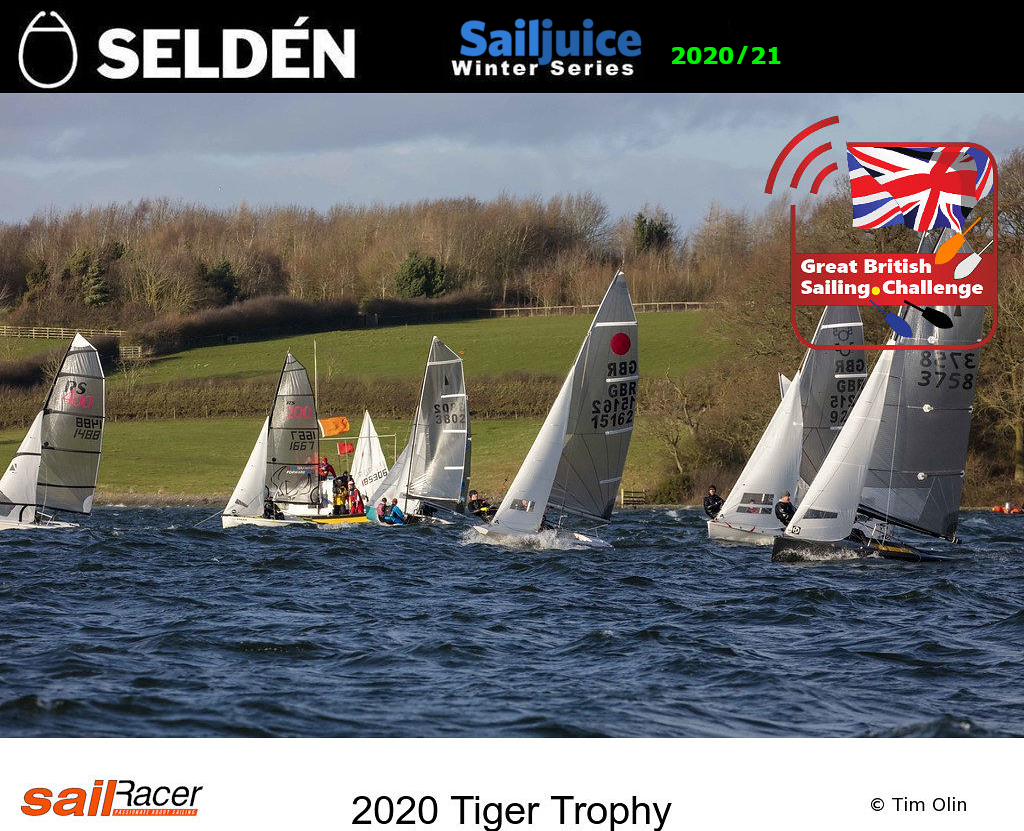 Great Britain's most popular winter sailing series is back for its 12th season, with a few changes....
The 12th edition of the Seldén SailJuice Winter Series kicks off in a couple of months' time, starting with the Fernhurst Books Draycote Dash on 21-22 November 2020. The intention is for the circuit to stay as similar as possible to previous years, although uncertainties created by Covid 19 mean some events are still TBC (To Be Confirmed). With Covid 19 causing a cease of open meeting activity at Yorkshire Dales Sailing Club for the rest of the year, for example, the Brass Monkey is temporarily replaced with a new event at Burghfield Sailing Club on 27 December 2020.
The Series has a good track record of retaining long-term sponsors. Founder and co-organiser of the Series, Andy Rice, comments: "It's great to have Seldén onboard for their third year as title sponsor for the 20/21 series. Without the support of companies like Seldén, who are as dedicated as we are to maintaining the health and success of the small-boat scene in the UK, we wouldn't be able to run this series which has become such a focal point for racing over the winter months. With so much racing cancelled this year due to the pandemic, we're making plans for a great turn out and expect the usual high quality of competition under the Great Lakes Handicap numbers."
As ever, the Seldén SailJuice Winter Series aims to appeal to as many classes as possible, with typically almost 100 different types of boat represented across the season, from fleets as diverse as the traditional Norfolk Punt and National 18 to emerging classes like the Hadron H2 singlehander.
Some fleets choose to use some of the events as their class championships, such as the RS Aero which typically brings up to 50 boats for the concluding event of the season, the Oxford Blue, which in recent years has served as the Aero Winter Championships.
More info on Facebook Live
Recognising the ever-changing Covid 19 environment and the need for flexibility, there will be changes to the entry process with a pre-entry registration stage. The latest details will be announced at the official launch of the Seldén SailJuice Winter Series, 11am Tuesday 22nd Sept on Facebook
https://www.facebook.com/SeldenSailJuiceWinterSeries/
Virtual Briefings & Prizegivings
The YouTube briefing has become increasingly popular in recent years. Andy and Simon had already been discussing the idea of virtual prizegivings, and now Covid has forced them to take the idea more seriously, as Andy explains: "Sailors already appreciate the ability to watch the race officers' briefings a day or two in advance of driving to the venue. With just eight or so hours of daylight during the depths of the winter, time is always in short supply. Holding a prizegiving soon after racing puts the scorers under pressure to produce accurate results in a very short time, while many competitors are itching to jump in their cars and make the long journey home. So this year we're looking at holding virtual prizegivings on Zoom or Facebook Live, most likely on the Tuesday after the event has taken place. These deals with any concerns about maintaining social distancing whilst enabling travellers to get away soon after they've packed up their boats."
Entry for the events opens in a few weeks at www.sailjuiceseries.com
THE EVENTS
The following events are in the Seldén SailJuice Winter Series 2020/21. Please note that some events are TBC:
Fernhurst Books Draycote Dash (TBC), Draycote Water Sailing Club
21 & 22 November 2020
Datchet Flyer, Datchet Water Sailing Club
5 & 6 December 2020
Burghfield Brass Monkey, Burghfield Sailing Club
27 December 2020
Grafham Grand Prix (TBC), Grafham Water Sailing Club
3 January 2021
Bloody Mary (TBC), Queen Mary Sailing Club
9 January 2021
King George Gallop, King George Sailing Club
23 January 2021
John Merricks Tiger Trophy (TBC), Rutland Sailing Club
6 & 7 February 2021
Oxford Blue, Oxford Sailing Club
13 February 2021
You can find out more about the Series here: www.SailJuiceSeries.com
Photo Credits: Tim Olin
Notes to editors:
Previous winners of the Seldén Sailjuice Winter Series
2019/20 Simon Horsfield & Katie Burridge (2000)
2018/19 Simon Horsfield & Katie Burridge (2000)
2017/18 Alistair Goodwin (Laser)
2016/17 Matt Mee & Emma Norris (RS200)
2015/16 Ian Dobson & Andy Tunnicliffe (GP14)
2014/15 Nick Craig & various crews (Merlin Rocket)
2013/14 Michael Sims (Solo)
2012/13 Tom Gillard & Simon Potts (Fireball)
2011/12 Peter Gray & Rachael Rhodes (Scorpion)
2010/11 Andy Peake (Musto Skiff)
2009/10 Olly Turner & Richard Whitworth (Merlin Rocket)
SailJuice.com is the 'how to sail and race faster' website, with hundreds of articles and exclusive interviews with National, World and Olympic Champions. Professional sailing journalist and editor of SailJuice.com, Andy Rice, came up with the concept of the SailJuice Winter Series (originally known as the SailJuice Global Warm-Up) as a way of increasing participation levels in dinghy racing during the off-season in the UK.
SailRacer manages event websites and processes online entry for major National, International, Youth and training events, providing online scoring, analysis and advanced sports presentation including GPS tracking and live video.
Seldén Mast Ltd is the world leader in dinghy spars. More races are won by Seldén Spars than any other brand. Dinghy spars are made using Seldén unique XPS aluminium with CNC cut tapers, automated welding and heat treating resulting in the highest quality and most consistent dinghy spars available. Seldén also produces about 400 carbon masts per year for boats including high performance dinghies and race yachts using state of the art Mandrel Filament Moulding Technology.
11/9/2020 12:37
Photo © Tim Olin
*Draft Schedule
Draycote Dash
21-22 November 2020
6-7 March 2021
Datchet Flyer
5-6 December 2020
Burghfield Brass Monkey
27 December 2020
20 February 2021
Round 4 - Remote
3 January 2021
Round 5 - Remote
9 January 2021
King George Gallop
23 January 2021
Postponed
John Merricks Tiger Trophy
6-7 February 2021
(28/29 Aug)
Oxford Blue
13 February 2021
Postponed
Alton Water
27/28 March 2021
*Details subject to change